The Playlist: How Portable Download Subscriptions Stack Up
Honestly, what else am I supposed to call a collection of portable subscription services that don't seem ready for prime time? Besides, The Beta Band isn't exactly using the name anymore, is it?
A few months ago, I wrote about the beta release of Napster To Go, the first major subscription service to offer unlimited downloads you can transfer to a supported portable player. Before such services appeared, all you could do with subscription-based music was play it on a few PCs--a work machine, a notebook, and a home PC, for example. But Microsoft Windows Media Digital Rights Management 10 (the technology formerly known as Janus) has started to change that, enabling services to offer portable downloads that check to make sure your subscription hasn't lapsed before letting you play each song.
It's a potentially powerful idea, and since I looked at the Napster beta, it's grown in popularity. Napster has formally launched Napster To Go, and Rhapsody and Yahoo have started their own portable subscription services. Sadly, each of these services has a critical flaw or two, which means that for now the power of portable subscriptions is still mostly potential.
First-Gen Blues
Napster's the easiest to explain, so let's start there. It's had a four-month head start on the other services, so it's no surprise that it's done the best job at working out the mechanics of portable downloads. Unfortunately, Napster's interface is about as intuitive as Cantor's infinite set theory. Napster To Go works well enough--and as you'll soon see, that's quite an accomplishment--but nobody I know who's tried it likes using it. I often end up just using Napster to search for songs I want and queue them for download, relying on Windows Media Player for most of my listening and syncing.
Rhapsody has the opposite problem. I know a ton of people who've found its interface a joy to use, and the player's new version took some positive steps to become a full-fledged media jukebox. But as a couple of my colleagues--longtime Rhapsody subscribers, both of them--found out, the Rhapsody To Go launch produced a bunch of problems; read "First Look: New Rhapsody Hits a Sour Note" and "Rhapsody 3.0: Not Quite Cooked" for the nitty-gritty. Users experienced dropouts in playback, inability to access the service, and problems getting downloads to transfer to supported portable players.
At least one update later, the player's problems haven't gone away. That sounds like a beta to me, but Rhapsody will take your $15 every month just the same.
Yahoo Calls a Beta a Beta
Yahoo is also selling its Yahoo Music Unlimited, but at least the giant portal is up front about the fact that its service is a beta.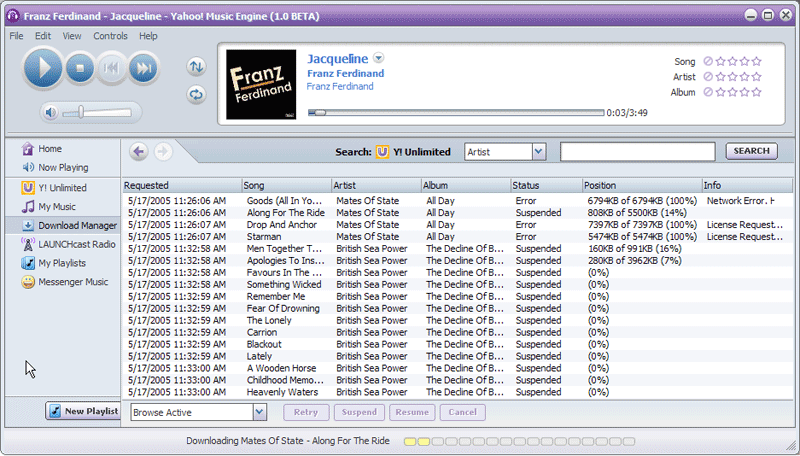 I've certainly had my share of problems with the Yahoo Music Unlimited service. Downloads have been slow and prone to errors like those shown in this screen shot. The Yahoo Music Engine player you use to access the Music Unlimited service needs some tweaking. And attempting to resize one of the boxes displayed by Music Unlimited can crash the player, forcing you to Ctrl-Alt-Delete and end the task.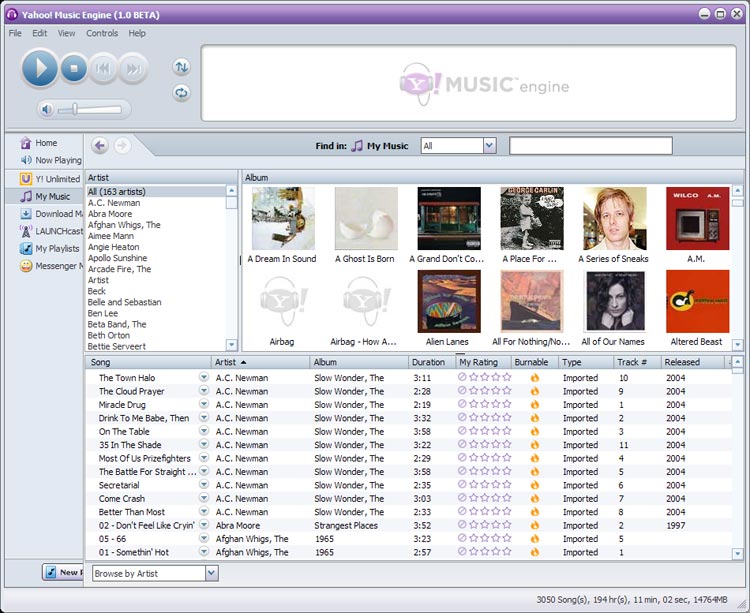 Still, I like where Yahoo Music Engine is headed. One of the people who worked on Winamp was heavily involved in the player's development, and you can also see some influence from Musicmatch, which Yahoo bought last year. That's a great pedigree, and it manifests itself in several nice touches, including the control you have over the way tracks are ripped from CDs and some automatic MP3 retagging that's reminiscent of Musicmatch's Super Tagging feature. However, the player's retagging is a bit overzealous at the moment. Instead of simply reordering bands with names that begin in "The," it rewrites the files' ID3 tags to read "bandname, The," which can confuse other players you may have on your machine--and for now there's no way to turn the feature off.
Of course, I still haven't mentioned the big story with Yahoo Music Unlimited--the pricing. Whereas Napster To Go and Rhapsody To Go both charge around $15 per month, Music Unlimited comes in at $7 per month or $5 per month if you sign up for a year of service. In "Yahoo Forces RIAA Staff Cutbacks," Mark Cuban muses about the effect that pricing could have on the industry. Perhaps he's right, but he's thinking a little more long-term than I am at the moment. For now, I'd settle for just one portable subscription service that works well.
In Heavy Rotation
Gimmie More of This Fiction: Spoon's latest album, Gimmie Fiction, is predictably great, a further development of the tight indie rock formula this band has evolved over the years. The mix is an amazing ride--from instantly likable rockers like "Sister Jack," to complex, back-beat-driven tunes like "My Mathematical Mind," to the singularly Prince-like "I Turn My Camera On."
Shop Tech Products at Amazon