Reinvent Your PC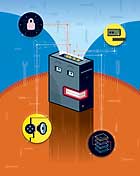 You say you want to take advantage of the new technologies that hit PCs in the past two years, but don't want to buy a new computer? While that might sound suspiciously like having your cake and eating it, too, the right set of upgrades can rejuvenate your older machine.
You've probably heard about Serial ATA hard drives, which are faster (and easier to set up) than IDE drives. Maybe your wireless network cuts out when you sit in your favorite chair, and you're interested in a MIMO wireless access point, which could solve the problem. Or you might just want to play the latest games without having jumpy graphics that make fast action look more like a slide show.
As it turns out, your less-than-new PC still has a lot of useful life left. In many cases, you can add these and other new technologies fairly easily. The most important thing to do is figure out what you want to do with the computer, then choose the right upgrades for the job.
We've selected the four upgrade projects that will give your PC the biggest jolt of life: boosting the capacity, flexibility, and speed of your data storage; replacing components that have become performance bottlenecks; adding media center functions, such as TV recording; and improving the security of your PC using hardware that protects your data.
Test Center Tip
Before you do even the simplest upgrade, back up your important files--just in case.
In This Article: