Page 3 of 10
MyWebEx PC Pro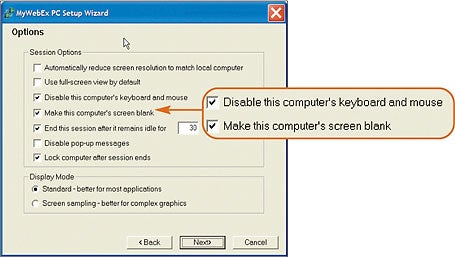 This upstart remote-control service from the leader in Web conferencing is already our Best Buy, and it just emerged from public beta. The service costs half as much as GoToMyPC 4.1: $10 a month, or $89 a year. And it comes in a free basic version that provides all the remote access many PC users will need.
The service's installation wizard leads you through screen blanking, keyboard and mouse blocking, application-level access (you can limit remote access to just e-mail, for example), and other settings. You don't have to hunt for options, and the wizard helps introduce many features.
After installation, an icon appears in the system tray. Its pop-up menu lets you change preferences, log the host machine in and out (which makes it available and unavailable for access), and update the service. We had no problems connecting via MyWebEx PC Pro from two different client machines. The service's speed was good at lower resolution and window-size settings, and passable when we raised the screen resolution and enlarged the window, even on a slow client notebook. MyWebEx PC Pro is also the only Web access service of the six we tested that has an option for you to enter an access code by phone for added security. When you log in from the Web site, you get a call on a designated phone number (your cell phone, for example). You then enter a code on the phone to make the connection. This provides nearly foolproof protection.
Shop Tech Products at Amazon