Page 4 of 10
GoToMyPC 4.1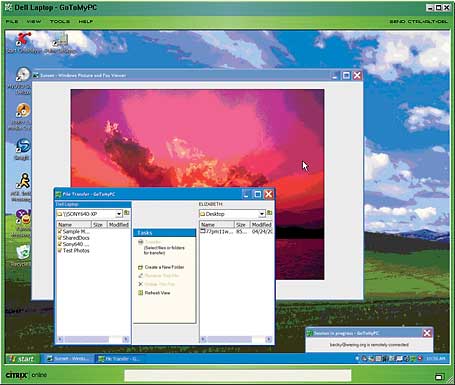 The granddaddy of browser-based remote-access services offers features that are tough to beat, but at a relatively steep price. While IT departments will appreciate the manageability of the Pro and Corporate versions, individuals will benefit from the standard service's easy installation, great performance, and range of features. Unfortunately, GoToMyPC costs about twice as much as the competition: $20 a month, or $179 a year. For people on a budget, cheaper--and in some instances, free--alternatives are available.
GoToMyPC's maturity shows in such details as its setting that automatically turns off the host system's sleep mode, which ensures that you can always get connected when you're on the road. A wizard guides you through installation and setup. By default, however, the service does not blank the host's screen while you're working, so you'll have to activate this important feature manually.
The service supports sending files to remote printers and transferring files for local printing. It also allows network file access and provides a guest account, which lets you invite remote users to view your machine (a great feature for interactive conferencing). Your display is limited to 256 colors, but this keeps the service speedy; supporting more colors would slow you down. Unless you're viewing photos or doing some other color-intensive task, this is not an important issue.
If not for its higher price, GoToMyPC would share top honors with MyWebEx PC Pro thanks to its polish, performance, and features.
Shop Tech Products at Amazon