PC in a Browser
LogMeIn Pro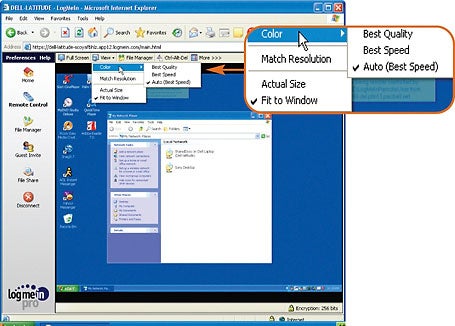 One feature that sets LogMeIn Pro apart is its integrated file sharing, which gives several people (rather than just one client) access to your documents. This allows your coworkers to retrieve files on the host system. And best of all, the service is available in a free basic version that lets you do remote desktop control but omits file transfer and file sharing. The full version costs $13 a month, or $100 a year.
The service is loaded with options for working with people who are at the host, making it a good choice for situations where a traveler may need to access a colleague's machine back at the office, or collaborate remotely with others on a document. Audible alerts can sound when someone is accessing the host, and you can lock out specific IP addresses for added security. LogMeIn Pro can also lock the host when you disconnect from it, although this option is not on by default.
While LogMeIn Pro's wealth of features is impressive, you have to exit the remote desktop viewer to transfer files, instead of being able to view the desktop and make the transfer at once. A more serious problem: We could not install the program properly on our Dell notebook due to a conflict with the laptop's graphics driver. (The company's tech support gave us a fix that involved adding a line to the Windows Registry.)

Amazon Shop buttons are programmatically attached to all reviews, regardless of products' final review scores. Our parent company, IDG, receives advertisement revenue for shopping activity generated by the links. Because the buttons are attached programmatically, they should not be interpreted as editorial endorsements.