Page 6 of 10
Laplink Everywhere 4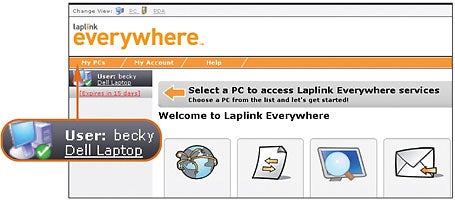 Laplink has been in the business of remote control and file transfer longer than any of the other vendors whose products we review here, and it shows in the depth of Laplink Everywhere's features, particularly those relating to file transfers. For example, the SpeedSync tool examines files as they're transferred and copies only the parts that have changed from previous transfers. This greatly hastens retrieval of the data you access frequently.
However, Laplink Everywhere's relative unfamiliarity with remote access through Web browsers is apparent. For one thing, we had to go to the manual to look up the meaning of the settings we agreed to during the installation. Though many users will be satisfied to leave these settings at their defaults, others will want to know what they are clicking OK to.
Furthermore, the service employs different applications to connect with different types of client PCs. If you are accessing the host from a Windows XP Home machine in one situation, and from a Windows XP Pro system in another, you'll be using two interfaces with different capabilities. Yet a third connection utility is used for Mac and Linux clients.
Laplink Everywhere's screen responsiveness was average for the services we tested. On XP Pro hosts you must enter your Windows user name and password as an added security check (it's the only one of the six services to require this). The service allows you to access the host when it is in standby mode, as GoToMyPC and MyWebEx PC Pro do.
Phone support costs $30 per hour and is available only during business hours. You have to schedule the call on Laplink's site. Laplink Everywhere's e-mail and live chat support are free, but this is a far cry from the 24/7 toll-free support that other services offer.
Shop Tech Products at Amazon