Page 7 of 10
RemotePC 3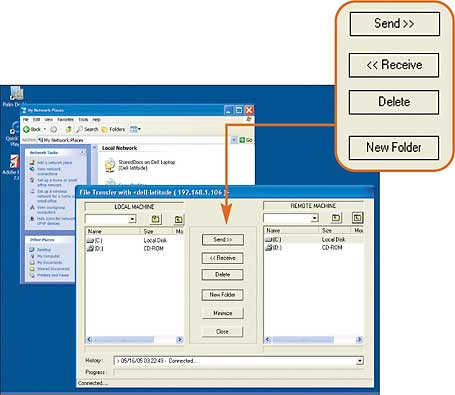 This ambitious service boasts several unique and valuable features, such as integration with ProSoftnet's IBackup service for file storage and synchronization. RemotePC costs $10 a month, or $100 a year (which includes access to three separate PCs rather than to the single host system that the other services permit). Ultimately, though, the service has too few of the key features that competing programs deliver--such capabilities as remote printing and remote access to network drives.
RemotePC claims it offers the fastest log-in around, but this is true only when you use its dedicated Viewer application, which you must download and install on the client machine separately; the service's Web-based viewer applet was noticeably slower. RemotePC's interface is also less polished than those of the other services we tested. In our tests we encountered several serious bugs, from an inability to connect on an old and slow laptop using the Web-based viewer to an installation glitch that caused the Start menu and system tray on the host machine to disappear. Reinstalling the host application seemed to fix the problem.
If ProSoftnet can figure out how to get rid of these bugs, RemotePC may turn into a good budget choice for people who work from multiple PCs, particularly considering the service's IBackup file-sync capabilities.
Shop Tech Products at Amazon