Improved WordPerfect Is Still a Hard Sell
At a Glance
Corel WordPerfect Office 12 Small Business Edition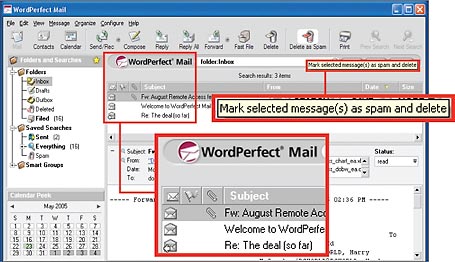 No one appreciates saving money more than small-business owners. Corel is betting on that with its $349 WordPerfect Office 12 Small Business Edition, which it touts as a low-cost suite alternative to the market leader, Microsoft's $449 Office 2003 Small Business Edition. But is a $100 savings enough of an incentive to warrant making the switch?
The answer depends on how willing you are to leave behind what you know. Even with Corel's assurances of app-by-app compatibility with Office and the addition of the great Bloomba e-mail client (rechristened WordPerfect Mail) and the Paint Shop Pro 9 image editor, I found that forgetting Office is not easy.
That isn't to say the Corel program fails to provide all the features you need to operate a small business--including a host of OfficeReady templates for business management and planning. However, even if your company standardizes on WordPerfect Office 12, you'll eventually have to work with files--created by someone using Office--that have lost some functionality.
I managed to switch from my standard Office apps to their WordPerfect equivalents with only a few hiccups. For example, I missed Word's Reviewing toolbar, which lets me see or hide the changes made by the various people who worked on the file--WordPerfect's Review Document feature works only for files created in that program.
WordPerfect Office 12 SBE is a solid Office alternative. But the price you pay for swimming against the current is many minor concessions.
WordPerfect Office 12 Small Business Edition
Corel
Corel's Office alternative adds e-mail and an image editor, but you'll face some compromises.
Price when reviewed: $349
Current prices
(if available)
At a Glance
Corel WordPerfect Office 12 Small Business Edition
Shop Tech Products at Amazon