Page 3 of 11
Faster Shipping Isn't Always Faster
Everyone wants new books, CDs, and DVDs delivered yesterday. But for some folks, standard shipping may be just as fast as expensive two-day service. Try this experiment with a recent release you can stand to wait for. Use free or standard shipping, and check the package-tracking link to see what location handles the order (most of your orders probably ship from the same place). Most new releases I've ordered here in San Francisco ship from Reno or Fernley, Nevada--and they arrive in two days without expedited shipping.
You Can Kill Messenger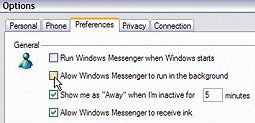 Know anyone who uses Windows Messenger as their instant messaging client? Me neither. Yet many of us have it sitting in our system tray anyway, because it often resurfaces even after you banish it using its own tools (select Tools, Options, click the Preferences tab, and uncheck 'Run Windows Messenger when Windows starts' and 'Allow Windows Messenger to run in the background'). You can, however, give Messenger the boot permanently; Click here for detailed instructions.