Optoma's MovieTime Projects Big-Screen Fun
At a Glance
Optoma Technology MovieTime DV10 DLP Projector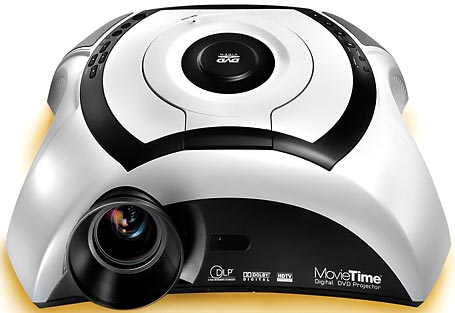 Very few people can afford a dedicated home theater, let alone find the space for one. Optoma's MovieTime DV10, a device of the "instant home theater" product category, can sate your lust for a big-screen movie experience without requiring you to endure a lot of cost, cabling, or hassles.
The $1499 MovieTime is one of only a few digital projector models to have an integrated DVD player and built-in speakers. To watch a movie across an entire wall in your home, accompanied by surprisingly good sound, all you have to do is plug in a power cord and pop in a DVD. When the movie's over, just unplug the unit and stash away the reasonably compact box (14.5 by 4.6 by 10.7 inches).
The projector has a native resolution of 854 by 480 pixels, fairly standard for its class. Placed 7 feet from the wall, my shipping unit produced a very respectable 74-inch diagonal screen in 16:9 format.
The MovieTime's greatest shortcoming by far is its menu system. Once you get to the proper menu, using it isn't too difficult; but reaching the correct settings took many more steps than it should have.
Nevertheless, this projector is a fine, flexible choice for people who can't mount a projector permanently in their room, and who want a large-screen viewing experience without incurring a huge cost.
Optoma MovieTime DV10
With its integrated DVD player and speakers, this projector is an excellent choice for people who want a big-screen experience at a reasonable price.
Price when reviewed: $1499
Current prices
(if available)
At a Glance
Optoma Technology MovieTime DV10 DLP Projector
Shop Tech Products at Amazon