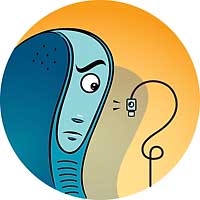 When USB works, it's great. But half the time, it's as flaky as Boston Red Sox slugger Manny Ramirez. Sit tight. I've discovered what could be the sources of your USB problems, and--miracle of miracles--how you can fix them.
The Hassle: Some days, my computer does not see my USB scanner, while on other days it does; the same thing happens with my external hard drive.
The Fix: The culprit here may be overcurrent, either on the PC's USB ports or on a powered USB hub. Overcurrent occurs when too many power-draining USB peripherals are turned on at once, causing some devices not to be seen by the PC. This glitch usually arises with devices that need power from the USB port, such as unpowered hubs, memory card readers, and flash drives.
There are three possible workarounds. First, try connecting the problem device after the system boots. No luck? Then switch the position of the devices, either on your PC's USB ports or (if you use one) on a powered USB hub. Lastly, you can spread out the devices. Start by connecting a powered USB hub to your PC; make sure you provide power to USB devices that have that option, and distribute the unpowered and self-powered devices across two hubs. You may have to experiment to get the right combination.
Yet another problem solver: Determine whether your PC has the most current USB drivers with Intel's free USBReady utility.
Hibernation Blues
The Hassle: When my system comes back from hibernation or standby mode, some of my USB devices just keep on dozing.
The Fix: That happens because Windows XP wants to conserve power, so it turns off the USB root hubs. You can change the default setting: Open Control Panel, Performance and Maintenance (if in Category view), System, Hardware, Device Manager, and click Universal Serial Bus controllers. Double-click USB Root Hub, choose the Power Management tab, and then uncheck Allow the computer to turn off this device to save power. Repeat this procedure with each occurrence of a USB root hub. On a notebook, this trick will cost you some battery life.
The Hassle: When I plug my external hard drive into my PC, it gets recognized. But when I unplug the drive and then plug it back in, my system ignores it.
The Fix: Depending on the device involved, your PC's operating system may take as long as 5 minutes to find a peripheral (a process officially known as enumeration). External hard drives, including flash drives, can take up to a minute to be seen. My rule? Plug it in, don't fiddle with anything, and have patience. If you use a notebook and an unpowered hub, limit the number of devices to two. Better, buy a hub that offers a power option.
The Hassle: My USB printer is printing out gibberish. Any idea why? And where can I find a good hardware exorcist?
The Fix: Data starts petering out when transmitted through cables longer than 5 meters (about 16 feet). If you must use long cables, buy a $20 active extender or repeater cable; some are available online here.
Tool of the Month: Smart USB Diagnostics
If you're having USB problems, take a look at USBInfo, a pricey but indispensable diagnostic tool. On one screen, USBInfo identifies all your USB 1.1 and 2.0 devices and ports, including the way that they're connected, the device specs, and the peripheral names. The program neatly displays all ports, hubs, add-in controllers, and connected peripherals in a handy tree view. The utility also tests each USB device or controller to determine whether its actual speed matches the manufacturer's claimed speed. USBInfo works with all current editions of Windows; grab a trial version of the $40 tool here.