Page 10 of 10
Spy-Free Computing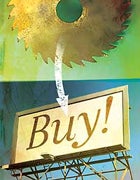 These steps can help keep spyware and unwanted adware off your system.
Use firewall and antivirus software: Antivirus tools may be able to prevent an accidental installation. A firewall, such as ZoneAlarm, that watches applications can notify you if an adware program decides to phone home--and can put a stop to it.
Use Internet Explorer only when absolutely necessary: ActiveX makes IE vulnerable to some drive-by installations. Alternative browsers, such as Firefox or Opera, don't use it.
Avoid sketchy sites:Certain kinds of Web sites--particularly some that offer hacking tools, free spyware scans, porn, and the like--tend to attempt drive-by installations.
Check the EULA on each download: Beware of EULA references to "third-party applications" that download advertising or their own updates.
Spurn "warning" pop-ups: Ads that look like a Windows dialog box and warn that you have spyware installed are just slick come-ons designed to lead you to sites that actually install spyware. Instead, use a known spyware remover--like the ones we review in "Best Defenders."
A PC World Special Report


The New Security War: See the Complete Special Report


Best Defenders and Spyware Sweeper Leads the Field (chart)


The Hidden Money Trail


Privacy in Peril


Is the Net Doomed?


Threat Alert: Spear Phishing


Threat Alert: Antivirus Killers


Threat Alert: Instant Messaging Attacks


10-Step Security


Security by the Numbers


More Security Resources on the Web
Also See Our In-Depth Online Series
Web of Crime