Page 3 of 10
A Long, Winding Road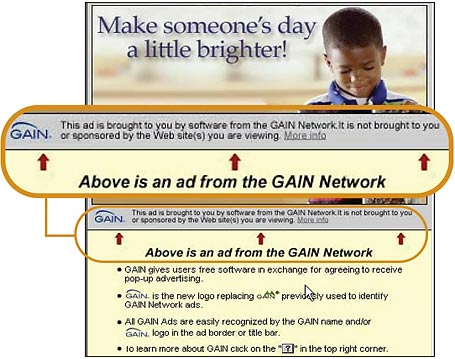 The path adware takes to get on your PC is murky. Many intermediaries help adware do its job, for a cut of the profits.
Typically, an advertiser hires a broker or an ad agency to purchase ad space. The broker or agency buys space from adware firms, like Claria or WhenU.
The adware makers have myriad ways of getting their program on your PC. You can get it directly from the adware company when you download software, like Claria's ScreenScenes screen saver and Gator eWallet software. Or you may have to get adware in order to access Web-based games or other online content, such as that found on Zango.com, a site owned by 180solutions.
Many adware companies also have networks of partners that help distribute and promote their adware. Bundlers package adware with other programs--for example, we received WhenU's Save when we installed the BearShare file sharing program. Affiliates help market the adware by, for example, buying keyword-based ads on search engines; they may also purchase banner ads on Web sites.
Reps from several adware companies say they hold their business partners, affiliates included, to a code of conduct that forbids secret, or "drive-by," downloads.
But, because affiliates can be swayed by the potential to earn a lot of money quickly and often operate with little or no oversight, some go "rogue" and use stealth installations or other deceptive tactics to force adware onto PCs. Affiliate programs are "where bad things happen," according to Direct Revenue's Maheu.