Page 6 of 10
When Ads Go Bad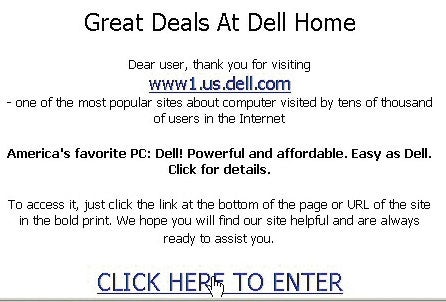 Companies that say they want no part of adware may end up promoted through adware pop-ups anyway, due to the complex networks of partners and affiliates.
At one time Dell had affiliate relationships with both 180solutions and adware vendor Exact Advertising, but not anymore. "We do not advertise via adware," says spokesperson Jennifer Davis. "And if we learn of a partner of ours doing so, we investigate and deal with it."
However, when we clicked a CoolWebSearch link, it led us to the Dell homepage. But not directly: In the space of a few seconds, our browser loaded a series of Web pages automatically, jumping from a CWS search portal, through Abcsearch.com, FindWhat.com, and Resolution Media's site, before ending up on Dell's site. As each new page loaded, a server recorded the affiliate ID. URLs that contain affiliate IDs make it possible for affiliates to get paid for each click.
We interviewed the companies involved to find out how the deal happened. Dell hired Resolution Media, a search-engine marketing firm based in Chicago, to purchase ads on Dell's behalf. Resolution Media placed ads with several small search engines, including Miva's FindWhat.com. FindWhat distributed the ads to its network of search affiliates, including Internext Media's Abcsearch.com. According to Abcsearch vice president David Senet, one of the site's subaffiliates (whom Senet declined to name) placed the Dell ad on the page that our CWS-infected PC brought us to.
Following our discussion with Dell, the company said it terminated its relationship with FindWhat.com, and Abcsearch said it no longer uses the unnamed affiliate. All of the firms we contacted claim that when they detect fraud, the advertiser isn't charged and the affiliate isn't paid.
We also saw the Netflix logo appear--alongside those from American Express, Citibank, and Toshiba--in ads displayed by Metareward.com on Direct Revenue's ABetterInternet adware (a predecessor to Aurora that, according to Maheu, his company longer distributes).
Netflix director of corporate communications Steve Swasey said the company forbids the use of adware by its affiliate partners; he confirmed that Netflix partnered with Metareward, but not Direct Revenue. Metareward did not respond to requests for comment; the company is a division of Experian (one of the big three credit reporting agencies).
Consumer advocates insist that all parties involved in the ad industry must do a better job of policing their practices.
"The question becomes, 'Can't you think of some way to design a system that's not such an invitation for scams, fraud, cheating, lying, and thievery?'" asks anti-spyware advocate Ben Edelman. "Is this really the best you can do?"