What's New for 2006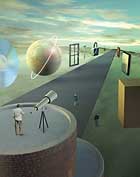 The approaching new year looks to be full of change for the way you work and play with technology. Among the exciting developments heralded for 2006: Advanced Web apps and tools will further blur the line between the desktop and the Internet. The next generation of DVD will arrive at long last, ushering in high-definition recording. Wide-screen LCD monitors will continue to become less expensive and more attractive, while new technologies will begin to boost display quality dramatically. And Microsoft will finally ship its long-awaited Windows Vista operating system.
But the road to these anticipated developments won't be without its share of jolting bumps and potholes. A standards battle is raging between next-generation DVD camps. Vista will require a pretty beefed-up system to run properly. And most of the new monitor models will be priced (at least initially) beyond the means of all but the most well-heeled users. Treat this article as your one-stop guide to some of the hottest new technologies, so you can decide whether they'll be right for your tech needs in 2006.
In this Article:

Amazon Shop buttons are programmatically attached to all reviews, regardless of products' final review scores. Our parent company, IDG, receives advertisement revenue for shopping activity generated by the links. Because the buttons are attached programmatically, they should not be interpreted as editorial endorsements.