Color Lasers Get Affordable
Page 12 of 12
Pennies per Page Soon Turns Into Dollars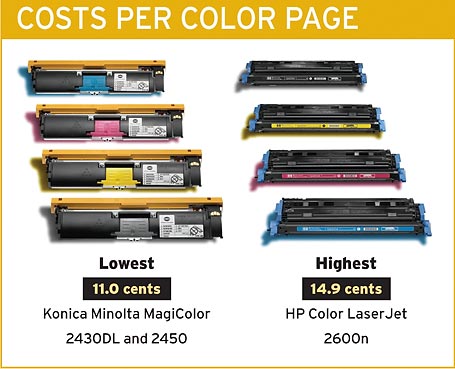 Though you can buy a color laser printer for a small sum these days, supplies can be a significant expense. Even if your printing volume is low, you will likely spend, eventually, a great deal more money on supplies than you did for the printer.
Among our tested printers, ongoing costs for printing text pages contrast sharply. Printing ten reams (500 sheets each) of text pages with the Dell 3000cn will use up an estimated $75 worth of consumables, or 1.5 cents per page. The black toner cartridge for the HP 2600n is inexpensive, but its per-page costs are much higher: At 2.9 cents per text page, printing on ten reams of paper will use up $145 worth of toner. HP's black toner cartridge yields an estimated 2500 pages and costs $75, while the Dell cartridge runs $45 and is rated to last 4000 pages.
Estimated costs to print 5000 color pages vary even more dramatically. At 11.0 cents per page, the costs of consumables add up to $550 for the Konica Minolta MagiColor 2430DL. At 14.9 cents per page, costs for the HP Color LaserJet 2600n total $745. The photo at the top left shows each printer's toner cartridges.
The Prices of Parts
The costs per page listed in our chart are the vendors' estimates, which are based on printing a black-and-white document with 5 percent coverage of black toner, and on printing color pages with 5 percent coverage of each toner, or 20 percent total.
The number of replaceable parts, and their prices, varies. With the HP Color LaserJet 2600n, for example, you have to replace only the toner cartridges. The Oki Data C5200n, on the other hand, has ten items that need to be swapped: four toner cartridges, four drums, a fuser unit, and a transfer belt. Fortunately, you'll rarely have to swap some of these items; the transfer belt, for instance, lasts an estimated 50,000 pages.
Watch for unreasonably high prices. The C5200n's fuser costs $140, and is rated to last 45,000 pages. The same part for the Brother HL-2700CN is rated to last 60,000 pages--but your accountant is sure to raise a red flag when the bill for $550 arrives.
Eric Butterfield
Shop Tech Products at Amazon