The pre-holiday PDA rush is on. Since last I wrote, Palm has shipped two new handhelds (the Z22 and the TX) and announced plans for a Windows Mobile Treo, and Research In Motion and AvantGo have announced new services. Today Hewlett-Packard is announcing an IPaq phone (the hw6515) with a built-in Global Positioning System receiver.
GPS Software Choices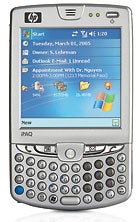 Let's go through the newest stuff first. The IPaq hw6515 has been in the works for some time now. It's already out in Europe, and HP has delayed its announcement here in the U.S. several times--most recently in August. It's a midsized phone-PDA hybrid with an integrated keyboard, a built-in 1.3-megapixel camera, and a GPS receiver; a cheaper version, the hw6510, dispenses with the camera. The new IPaq runs the Pocket PC Phone Edition version of Windows Mobile 2003 Second Edition (aka Windows Mobile 4.2), and for now is available exclusively from Cingular, for $449 with a two-year contract.
The IPaq hw6515 ships with Microsoft Pocket Streets, which doesn't offer true navigation functionality: Although it works with GPS data so you can find your position on a map, it doesn't give you driving directions. You can, however, upgrade to any of several third-party packages available for Windows Mobile, including a $130 HP-branded program based on Navteq map data and the $150 TomTom Navigator 5.
Although the IPaq hw6515 comes with 64MB of ROM and 64MB of RAM, I'd count on getting an Secure Digital memory card for the SDIO slot on the right of the device; you'll need this to hold large map files as well as any images you capture.
Shooting Sideways
The IPaq's 2.8-inch width suggests a data communications device more than a voice handset, but the size helps make for a user-friendly thumb keyboard. I found the integrated camera easy to use, but was taken aback by the orientation of its interface: You have to hold the PDA sideways to see the controls in their logical position, even though the camera's virtual LCD shows the image you're about to capture in its proper orientation either way. I would have preferred smaller, properly oriented virtual buttons and a larger virtual LCD.
All in all, the IPaq hw6515 strikes me as a less-than-fabulous effort. HP says it will offer a kit with a cradle for the device and a means of attaching it to a windshield or dashboard for use as an in-car navigation system. But how, exactly, would you position it? If it's well placed for a driver to see the display, it probably won't be close enough to the windshield to optimally receive GPS signals. This is one reason why Palm's two-device solution (which I wrote about in my September column) is so appealing. I'd just as soon wait for a Windows Mobile Treo that works with the Palm GPS add-on.
Treo 650 to Support BlackBerry Mail
If you're a corporate type whose company has one of Research In Motion's BlackBerry Enterprise Servers, and you've been longing for a Palm PDA that will support RIM's popular push e-mail technology, you're finally in luck.
This week Palm and RIM are announcing that BlackBerry Connect support will be available for the Treo 650 early next year. Your mobile phone carrier will have to enable receipt of BlackBerry e-mail, which will be handled by the Treo's VersaMail client. BlackBerry support more or less rounds out the Treo's 650 capability to handle just about any corporate e-mail system, as it already accommodates Microsoft Exchange and IBM Lotus Domino. Pricing is not yet available.
AvantGo Supports RSS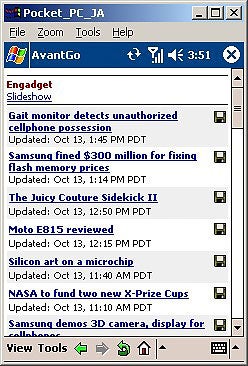 AvantGo, a major distributor of content formatted for handhelds, is now making RSS feeds available for these small-screen devices. IAnywhere, the Sybase subsidiary that operates the AvantGo service, says AvantGo users will be able to turn any RSS feed into an AvantGo channel that, like other channels, can be updated through either an over-the-air connection to the Web-based service or upon conventional syncing with a desktop PC.
You can add an RSS feed to your AvantGo subscriptions simply by typing in the URL of the feed, or just of the site itself, into a form on the AvantGo Web site. The beta of AvantGo's RSS service is supposed to be available today to subscribers running version 5.7 of AvantGo's handheld software. (If that link doesn't work, be patient; I'm sure it will come up soon.) You won't have to download any additional software to your handheld, but the feature supports only feeds that are compliant with RSS versions 0.91, 1.0 and 2.0 and Atom syndication formats.
Older News
I won't belabor the stuff you've already heard about. What can I say about a Windows Mobile Treo that will reassure people who fear Microsoft is taking over the world and the beloved Palm OS might be on its way out?
Palm executives have pointed out that the company's license for the Palm OS (which will have to be renamed at some point anyway, remember?) extends through the end of the decade. And who knows what it will look like by then, anyway?
As if to reassure doubters, Palm last week announced two new PDAs. You can read my colleague Narasu Rebbapragada's take on the TX. Meanwhile, I've been playing with the little Z22, and I like what it delivers for $99. The color screen may not be the best I've ever seen, but it's reasonably bright and readable. And even with the basic apps and no data installed, you still have some 20.7MB of memory available--not unreasonable for an entry-level user.
It's sort of annoying that you cannot recharge the battery and sync with the desktop at the same time since the AC adapters and USB sync cable connect through the same USB port. You'd be able to recharge the device when connected to a PC if you happen to be using a powered USB port, but you might be connecting through a port that isn't powered (on some hubs, for example), in which case you wouldn't be recharging. And even if you do what's known as a trickle charge through a powered USB port, it will take a lot longer than recharging through an AC adapter. Still, I wouldn't hesitate to recommend the Z22 for students or folks who are dipping their toes into PDA waters.
But another Palm news release that showed up in my mailbox made me wonder how many more of these basic Palms we'll be seeing. Palm in late September reported declining profits even as sales of the Treo 650 skyrocketed. The company acknowledged that its LifeDrive and Tungsten models weren't doing as well as it hoped.
Palm probably isn't going to get rich on entry-level stand-alone PDAs like the Z22. It remains to be seen if the TX, which at least has Wi-Fi, can help turn the trend around for its non-Treo lines.