Inkjet MFP Helps Photos Go Digital
At a Glance
Epson Stylus RX700 All-In-One Photo Inkjet Printer (5760x1440 DPI, Color, PC/Mac)

PCWorld Rating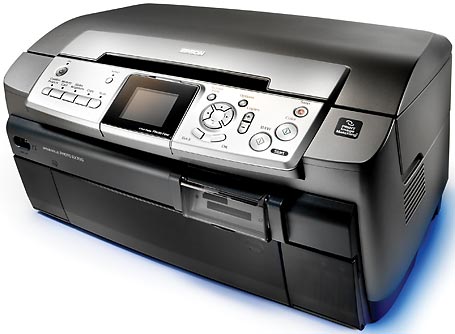 The latest Epson multifunction printer, the Stylus Photo RX700, is made for photography. This $399 model comes equipped with a light in its lid for scanning film, and it uses six inks to print high-quality images.
The RX700 comes equipped with a plastic holder in which you can place a strip of negatives or individual slides; you can scan film images to your PC or make prints right away. In addition, you can print directly from a digital camera via the RX700's PictBridge port.
This scan-and-print ability in stand-alone mode isn't terribly fast. Making a copy of a color photo on our shipping unit took about 2 minutes, 40 seconds in Best Photo mode. However, the RX700 printed photos from a PC faster than other recently tested inkjet MFPs, doing so in 48 seconds. The unit also earned the best score for scan quality.
Text documents didn't print sharply or darkly enough for business use. But the RX700 excelled on photos, receiving our highest score for photo print quality on glossy paper. Prints made from film negatives looked impressive, too, though not quite as good as the output from lab prints. Prints generated from positive color film appeared as nice as well-made lab prints, though some blue patches in church frescoes seemed too vivid and flattened the illusion of depth.
I'd recommend the RX700 for anyone seeking a photo printer and scanner in one. Regrettably, its mediocre text output makes it less suitable as a general-purpose MFP.
Epson America Stylus Photo RX700
PCW Rating

The RX700 earns top marks for scan and photo print quality, but plain-paper text output is weak.
Price when reviewed: $399
Current prices (if available)
At a Glance
Epson Stylus RX700 All-In-One Photo Inkjet Printer (5760x1440 DPI, Color, PC/Mac)

PCWorld Rating

The RX700 earns top marks for scan and photo print quality, but plain-paper text output is weak.

Pros

Superior photo prints on glossy paper
Film scanning; includes light in lid

Cons

Plain-paper text output is mediocre
Shop Tech Products at Amazon