I'm a fan of keyboard-enabled PDA/phone hybrids like the Palm Treo and the Research In Motion BlackBerry, but they aren't quite the perfect handhelds for my needs. I'm holding out for a smaller, thinner, and more powerful smart phone--and I'm hoping that one of the new devices from Hewlett-Packard, Motorola, and Nokia will satisfy.
The HP IPaq hw6515, Motorola Q, and Nokia E61 all look like skinny, polished silver BlackBerry clones. It's almost frightening how much these devices resemble each other.
HP IPaq hw6515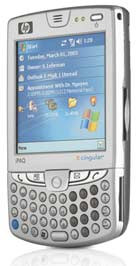 Of the three smart phones, one that you could get your hands on now is HP's IPaq hw6515, which fellow PC World columnist Denny Arar took for a test drive earlier this month.
The IPaq hw6515's release date has yo-yo'd back and forth in the past 10 months. At last, you'll soon be able to buy one from Cingular Wireless. Although Cingular isn't yet specifying how much it will cost, HP lists the hw6515 for $649 on its site. A non-camera version, the hw6510, is available for $599.
Although HP's hw6515 is too large for my taste, it does have a few things going for it. It's equipped with a 312-MHz Intel processor and runs on Microsoft's Windows Mobile 2003 Phone Edition, which includes Pocket versions of Microsoft Excel, Outlook, and Word. It sports a 3-inch, 240-by-240-pixel color screen, a five-way joystick navigation button, a mini QWERTY keyboard, and memory card slots for Secure Digital and MiniSD media.
You can take pictures with it, too, using the built-in 1.3-megapixel camera. For connectivity, it supports Bluetooth, IrDA, and USB. One nice extra: The hw6515 has a built-in Global Positioning System receiver, allowing you to run mapping programs that provide turn-by-turn directions.
What's missing? Wi-Fi networking. There are rumors of a Wi-Fi-enabled model coming soon, but there hasn't been any definitive word yet from HP.
Motorola Q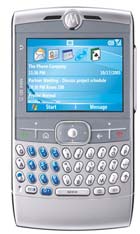 Meanwhile, the forthcoming models from Motorola and Nokia look a tad smaller than the IPaq 6515 and carry a few more impressive features, including a bigger screen on the Motorola and Wi-Fi on the Nokia. They also support newer operating systems, which is not surprising considering the manufacturers have had more time to work on them. The Motorola Q, for example, runs Microsoft's Windows Mobile 5 platform, which gives you access to office apps including Word, Excel, Outlook, and Internet Explorer. Motorola expects to ship the Q in the first quarter of 2006.
Among these BlackBerry/Treo look-alikes, this handheld is by far the slimmest. Taking a cue from Motorola's ultrathin Razr cell phone, it comes in a brushed-silver design and is 0.45 inch thick, according to the company. It features a 320-by-240-pixel color screen; a thumbwheel; Bluetooth, IrDA, and USB connections; a MiniSD card slot; and a speaker phone. Like the HP hw6515, the Q lacks Wi-Fi networking. Carrier availability and price have not been announced.
Nokia E61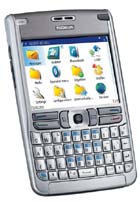 Nokia recently announced a new line of business-focused handsets called the E Series. The PDA/phone hybrid in the bunch is the E61 Smartphone. If you want a Wi-Fi-enabled handheld, consider waiting for this device. Its most intriguing features are the ability to handle Voice-over-IP and global roaming, including support for GSM networks in Asia, Europe, and South America.
The E61 runs the Symbian Series 60 third edition OS and it supports BlackBerry e-mail, GoodLink, Seven Always-On Mail, and Microsoft Office (versions 97, 2000, XP and 2003) apps, including Word, PowerPoint, and Excel. Unlike the HP and Motorola models, the E61 lacks a camera. It has a QVGA display, 75MB of memory, a MiniSD card slot, Bluetooth, IrDA, and USB.
Phone-wise, the E61 holds more promise than the HP and Motorola models. The E61 supports VoIP and Push-To-Talk. And you'll be able to use it in many cities around the world, provided that you subscribe to international roaming. It is compatible with GSM 850/900/1800/1900 and WCDMA 2100. But for data connections, it supports the relatively slow GPRS network. I'm surprised that the E61 doesn't support the slightly faster EDGE or the even faster UMTS or HSDPA networks. Nokia expects to ship the E61 in the first quarter of 2006; the company has not announced price and carrier partnerships.