Solid $500 Laptops
Is the idea of getting a capable notebook from a major vendor for just $500 too good to be true? Not if your needs are modest. Although such deals involve definite catches, our tests revealed that new bargain-basement models work well if you want a machine that handles e-mail, Web surfing, word processing, and other run-of-the-mill productivity chores.
We tested laptops from Acer, Dell, and HP's Compaq line; each company sells basic models for around $500 (after rebates). Gateway and IBM are also getting into the act: As we went to press, both were advertising units starting in the $500 range after rebates.
These ultralow-priced systems challenge the adage that even the most inexpensive laptops are costlier than the lowest-priced desktops. "Now consumers can buy the computer they want, not just the desktop they can afford," says Stephen Baker, an analyst who follows the retail PC market for NPD Techworld.
Thanks to strong sales of budget notebooks, in August 2005 more laptops than desktops sold at retail stores for the first time ever. Notebooks represented 52 percent of retail PC sales, according to NPD. The rise in sales corresponds to a fall in prices: The average cost of a notebook during August 2004 was $1350; in August of this year, it was $1100, NPD says.
See features comparison chart: "Acer Leads the Value Pack."
Compromises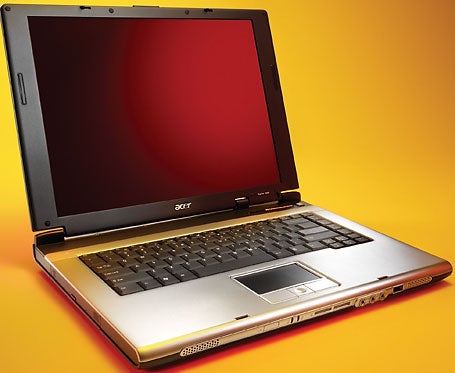 To get a notebook for about $500, however, you'll need to jump through some hoops. The Acer Aspire 3003LCi, for instance, has a retail price of $649. But rebates and special offers make it available for $499 at certain stores. Likewise, HP's Compaq Presario M2000 retails for $579, and rebates can give you $50 back. The Dell Inspiron 1200 is regularly priced at $549; with an instant rebate at purchase time, you can get it for $499.
Living with a cheap laptop requires making some compromises. Predictably, these low-cost systems didn't set any performance records, and they lagged well behind the mainstream laptops in our WorldBench 5 suite of tests. Acer's unit scored the highest of the three, with a mark of 68--it had the fastest chip (a 1.8-GHz AMD Mobile Sempron 3000+) and the most memory (512MB versus the others' 256MB). Still, the Acer's score was about 10 points below the average mark for mainstream notebooks in this month's Top 10 chart. And its 1-hour, 19-minute battery life means you'll have very limited use away from power outlets.
Featuring a 1.3-GHz Intel Celeron M 350, the Dell Inspiron 1200 earned a WorldBench 5 score of 57; the Compaq Presario M2000, with a 1.4-GHz Celeron M 360, managed a score of 60. You'll want at least to upgrade to 512MB of RAM--the minimum we recommend for Windows XP--for more comfortable computing. That will tack on about $50 to the overall cost.
All three notebooks also relied on lower-end integrated graphics that use the PC's chip set and main memory instead of a dedicated graphics chip and memory. Such a graphics setup won't cut it for serious gaming or video editing, but in our tests it was fine for DVD playback.
These models scored about on a par with more mainstream systems in the portion of WorldBench 5 dealing with common productivity tasks, such as surfing the Net with the Mozilla Web browser, using Microsoft Office 2003, and editing photos with Adobe Photoshop. If you're a buyer on a budget, a student, or a home or home-office user looking for an inexpensive second system, you should find any of these notebooks suitable. Gamers and users of more demanding graphics and audio applications, however, should stay away.
Pluses and Minuses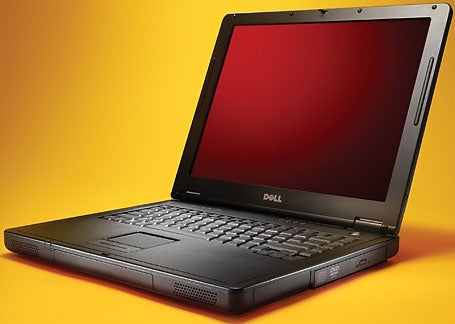 Though these notebooks are reasonably capable, they lack several amenities common in more mainstream models. For example, only Acer's Aspire 3003LCi included integrated Wi-Fi support; Dell's Inspiron 1200 and HP's Compaq Presario M2000 omitted wireless functionality. None of these systems came with a reader for removable flash media cards; they also lack a rewritable DVD drive.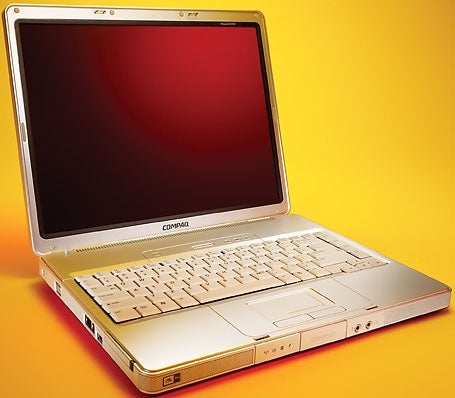 Storage capacity was limited in two of our models, with the Dell and the Compaq offering 30GB and 40GB hard drives, respectively. The Acer included a more mainstream 60GB drive. The Acer and Dell each had a DVD-ROM/CD-RW combination drive, while the Compaq was equipped with only a DVD-ROM drive.
On the plus side, however, each of the systems came with ports for USB 2.0, ethernet, a modem, headphones, and a microphone, as well as one PC Card slot. The Compaq even featured a fast FireWire port.
And there was something about each notebook that pleasantly surprised us. The Compaq turned out to have great sound and design. The Acer came with user-programmable shortcut keys for instantly launching your favorite applications and Web sites, and its touch pad had an extra mouse button in the middle for four-way scrolling. The Dell offered a generous three USB ports and had a good, 2.4-hour battery life.
You can also upgrade each of the notebooks, which has not always been true of budget systems we've looked at in the past. For example, each accepts memory upgrades and lets you swap the hard drive for something bigger.
You get a reasonable warranty from Acer and from HP: Their systems each come with a one-year service and telephone-support contract. Dell includes no phone or hardware support beyond the skimpy 90-day warranty, but a full year of mail-in service and telephone technical support costs just $25 extra.
Prices Plummeting
How low can laptop prices go? Lower than $500, say a number of PC vendors.
The cheapest notebooks could sink to the $400 range by the end of this year and may even drop as low as $300 by late 2006, according to various computer vendors, chip experts, and PC industry observers. In fact, as we went to press CompUSA was selling a Compaq laptop for $425 after $300 in various rebates.
"It used to be notebooks would sell for close to $600 only as a stunt," says Mark Margevicius, an analyst with Gartner Research. But now some laptops have sold for that price consistently, he says.
Due to increases in production, some expensive notebook components have dropped in price, explains Roger Kay, analyst with Endpoint Technologies Associates. That in turn drives system prices down.
For example, the cost of a flat-panel display, which accounts for over half the total cost of a notebook, has fallen by 70 percent over the last 12 months, according to market research company iSuppli. The cost of other expensive notebook components, such as hard drives and memory, has halved over the past 12 months, says iSuppli.
Cheaper components don't mean shoddy products, say vendors. Low-cost machines are put through the same quality-control checks as any other computer, they say.
"These entry-level models deliver a solid and basic computing experience," says Matt Jorgensen, a Dell product marketing manager.
But Dell and other vendors we spoke with admit that low-priced models often serve as bait. HP says that low-end notebooks are meant to lure prospective buyers in. "It gives sales staff an opportunity to get you in the door and then coax you to upgrade," says Denise Dibble, product marketing manager for HP's consumer notebooks division.
Know What You Need
Before you click to buy any budget system, make sure it will be able to do what you require. Although spending more money is exactly what vendors hope you'll do, you really are better off paying up front to get as much computing power as you need. You may not have to spend too much more, however.
For example, by spending $50 more to get the Dell Inspiron 6000, we got a one-year warranty, a 40GB hard drive, and a 15.4-inch LCD screen, compared with the Inspiron 1200's 90-day warranty, 30GB hard drive, and 14.1-inch LCD. As in our case with Dell, you may have to look at the next model up to get the features you want. Some vendors sell only fixed laptop configurations, with few or no options to upgrade before you buy.
Also, consider whether you really need a portable computer. Though prices for cheap laptops and cheap desktops are almost the same, you'll still get far more performance for your buck with a discount desktop. A $450 HP Compaq Presario SR1420NX Minitower ships with a 2.93-GHz Intel Celeron D CPU, 512MB of RAM, an 80GB hard drive, a nine-in-one integrated media card reader, and a DVD±RW drive. You'll have to add $100 for a 17-inch CRT display or $200 for an equivalent-size LCD monitor, though.
Acer Leads the Value Pack (chart)