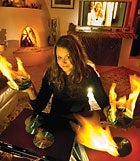 Does your aging VCR, with its clunky analog tapes and limited capabilities, feel antiquated? Maybe it's time to switch to a slim DVD recorder. Today's models offer better quality and larger recording capacity than ye olde VCR--plus on-screen programming guides, and built-in hard drives that hold hundreds of hours of video.
The newest DVD recorders far outshine last year's relatively primitive models--making this a great time to jump in. They're cheaper, too: A year ago, such recorders were priced for the television elite--up to $1000 for one with a 160GB hard drive--but today various models are within reach of ordinary TV watchers. A basic recorder (like CyberHome's DVR1600) sells for less than $100; a model with an 80GB hard drive (for example, the Lite-On LVW-5045) costs less than $300; and a deluxe 250GB model (such as the Toshiba RD-XS54) runs about $700.
The three models mentioned above are among the ten DVD recorders I evaluated in this roundup. Half of them had a builtin hard drive; the other half were either bare-bones recorders or combination units that coupled a DVD recorder with a VCR or second DVD player. (For full reviews and ratings of all ten recorders, see the features comparison charts for hard-drive-equipped and non-hard-drive-equipped models.)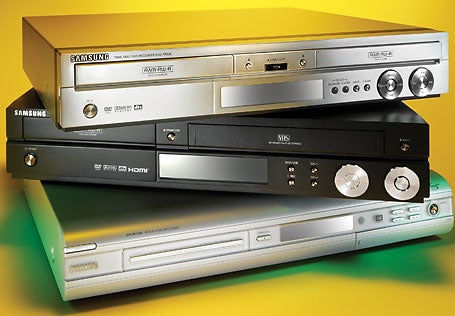 Among hard-drive-enabled models, the full-featured, network-connected Toshiba receives our Best Buy. Samsung's DVD-VR325, which pairs a DVD recorder with a VCR, wins our Best Buy for non-hard-drive recorders.
All of the recorders in this roundup include component video outputs, but only the Samsung DVD-VR325 and the Toshiba provide digital connections for use with an HDTV. Both the Samsung and the Toshiba convert analog video into digital signals at resolutions of 720p or 1080i (two common HDTV formats) for output via an HDMI port. Such up-conversion can make a difference: TV recorded to DVD from a cable signal or other analog source looked much better on an HDTV. DVD video piped to our test TV via an HDMI connection looked sharper than the same video transmitted via component cables, probably because it underwent fewer analog-to-digital conversions.
Every recorder we tested supports playing MP3 audio files and displaying JPEG photo files burned to disc. But the Philips DVDR3355 is the only one that plays back MPEG-4 and DivX video files, too. The Toshiba RD-XS54 can be programmed via the Internet, without requiring an extra-cost add-on.
Speedy Copying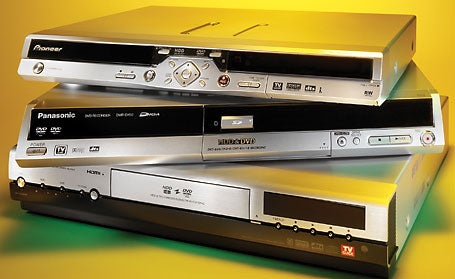 The ability to copy and archive video is the running theme among the DVD recorders assembled here.
All but the CyberHome and the $250 Philips DVDR3355 have features to make copying video easier. Samsung's $400 DVD-VR325 and Sony's $310 RDR-VX515 combine a DVD recorder with a VHS video deck, so transferring your VHS home movies to DVD is a snap, and the $450 Samsung DVD-TR520 can copy from DVD to DVD. Four other models (the Lite-On, the $350 Panasonic DMR-EH50S, the $500 Pioneer DVR-633H-S, and the Toshiba) can record to a DVD or to a hard drive; a fifth, the $390 Humax DRT-400, requires you record video to its hard drive before burning it to DVD.
Given how pervasive VHS tapes have been for the past two decades, the Samsung and Sony models with DVD and VHS decks represent a convenient bridge between past and present. These combo models digitize and copy video from tape to DVD in real time--a great feature if you want to create digital copies of old TV shows or family films. Both models have a button to sync the start of VHS cassette playback with the DVD recording--a much simpler approach than stringing cables between a VCR and a DVD recorder, and juggling two remotes.
DVD recorders equipped with a hard drive are great for recording lots of TV, capturing long programs (like the Super Bowl or the Winter Olympics) at the highest quality speed, or recording several episodes of a show while you are away for a few weeks. Depending on the hard drive's capacity and the video quality setting you choose, you can store many hours of video: The Humax is rated at a maximum of 40 hours; the Panasonic, 100 hours; the Lite-On and the Pioneer, 160 hours; and the Toshiba, 250 hours. After recording a program on a hard drive, you can transfer it to DVD in a single step; the recorder will split the video among discs as needed. Hard drive models transfer video to DVD fairly quickly: When the PC World Test Center copied a 1-hour TV show from the four hard-disk models to DVD-R using the highest quality mode (at which a disc holds 1 hour of video), most completed the job in around 6 minutes (not including the 2 minutes or so required to finalize the disc, to ensure that it will play without a hitch on other DVD players).
The fastest unit, the Pioneer, transferred the video in 5 minutes and 54 seconds, and finalized the disc in 55 seconds for a total of just under 7 minutes. The two outliers in our tests were the Humax (which took about 15 minutes) and the Lite-On LVW-5045 (18 minutes); both vendors said the slower performance was likely due to the speed of the integrated DVD burner (rated at 4X, compared with 8X for the other models).
The slick, twin-tray design of the Samsung DVD-TR520 pairs a DVD-R/RW and DVD-RAM recorder with a DVD player, so you can dub from disc to disc (but only if the original source disc has no copy protection; you can't use the recorder to make copies of commercial DVD movies).
In this story:
Shop Tech Products at Amazon