Page 2 of 7
Test Buys
To discover how prevalent counterfeit high-tech parts have become in the United States, PC World purchased seven hard drives, seven memory modules, and ten cell phone batteries online, using pricing search engines to find low prices. We then asked vendors to authenticate the gear. Of the two dozen products we bought, four (all cell phone batteries) were counterfeit. We also received at least one old or refurbished product masquerading as new, got one broken drive, and in a few cases ordered a specific brand but received a cheaper brand in its place. Worse, our reporter had his credit card number stolen and misused multiple times during the course of researching this story. Ultimately, only 15 of the 24 items we bought turned out to be exactly as advertised.
One fake, labeled as a Nokia BL-5C battery, came from a Web site called Genuine Cellular Accessories, which is based in Niland, California. Store manager George Heras says he had no inkling the battery he bought from a California distributor was phony. He declines to name the distributor. "We are careful who we buy [parts] from, but generally we look for the most competitive prices," he says.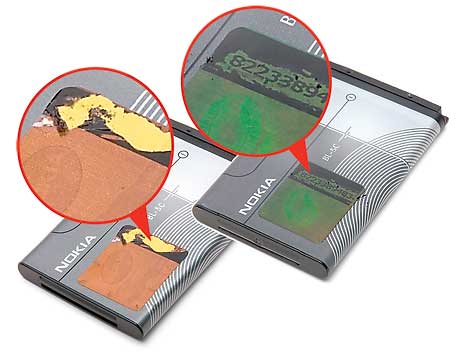 Nokia includes a holographic seal of authenticity on its batteries, along with a blacked-out area users can scratch off to reveal a serial number they can check online. Our unit had such a seal, but when we scratched off the covering to verify its number, nothing was underneath. Nokia confirmed that the battery was a counterfeit. The company also identified a second battery we purchased as counterfeit; that one's source is still under investigation.
Motorola verified that a battery bearing its logo, which we bought from SimonCells.com, a Brooklyn, New York-based site, was fake, too. SimonCells.com's Sam Neuman says he did not know the battery was phony. He says he got it from Los Angeles-based distributor AA Wireless.
AA Wireless says it has no idea where this battery came from. "They make counterfeits so good these days, you really can't tell what is fake or real anymore," says AA Wireless vice president Frank Nozar. He stresses that AA Wireless inspects items it buys from distributors before selling them.
Kyocera also confirmed that a battery we sent for testing was counterfeit; we agreed not to reveal the source of that battery due to an ongoing investigation.