Apple Adds More Fun to the iMac
At a Glance
Apple 20-inch iMac G5/2.1GHz

PCWorld Rating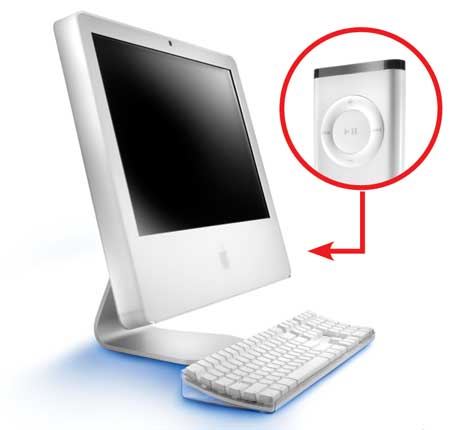 Apple has lowered the price, bumped up the speed, and enhanced the features of its sleek-looking 20-inch iMac G5. The result is an all-in-one desktop computer that works better with media and costs less than its predecessor; but like that unit, it falls short of being a full-fledged media PC because it doesn't have a built-in TV tuner.
I tested a shipping version of the updated, 20-inch iMac. Equipped with a 2.1-GHz processor (the prior model had a 2.0-GHz CPU), 512MB of DDR2 RAM, a 250GB hard drive, and a DVD+RW double-layer drive, the $1699 system delivered crisp performance, and the 20-inch wide-screen display looked very sharp. Audio from the built-in speakers, on the other hand, was average.
Aside from having a slightly thinner build, this iMac differs from its predecessor in three significant ways.
First, Apple added an iSight Webcam--third-eye style--at the front of the iMac. In my tests, the camera provided reasonably smooth videoconferencing capabilities.
Second, Apple introduced a Photo Booth app that lets you use the camera to take photos of yourself (complete with a screen-based fill flash) to use in things like e-mail notes and instant messaging.
Finally, Apple bundled a new iPod Shuffle-size infrared remote control that works with the new Front Row entertainment software. To activate Front Row, you hit the Menu button on the remote; this brings up a screen with four icons (Videos, Music, Photos, and DVD).
Despite my disappointment over the lack of a TV tuner, I think the 20-inch iMac is a cool desktop with a nice set of features, an attractive design, and a reasonable price.
Apple iMac G5

This beautiful 20-inch wide-screen all-in-one combines entertaining multimedia features and a good price.
Price when reviewed: $1699
Current prices (if available)
At a Glance
Apple 20-inch iMac G5/2.1GHz

PCWorld Rating

Pros

Consistent organization of movies between computer and Front Row
Built-in iSight video camera
Includes fuller featured Mighty Mouse
Remote stows on side of iMac
Beautiful, bright display
Photo Booth software is really fun
Can support a maximum 2.5GB of RAM
Excellent general-use and business Mac

Cons

Supports second display only in mirroring mode
Supports only VGA (analog) connection for additional displays
Remote control takes some getting used to
Front Row has numerous, irritating quirks and omissions, its Movie Trailers server intermittently returns errors and won't play trailers, and it won't let you bookmark video content
Shop Tech Products at Amazon