Page 4 of 6
The Need for Speed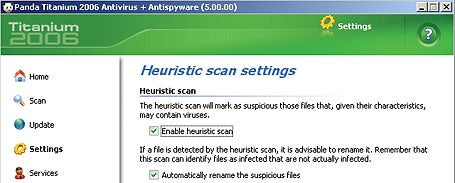 We tested the products for two kinds of speed: how fast they completed an on-demand virus scan and, more important, how swiftly the companies released signature updates for new malware outbreaks. The software that turned in the speediest scanning performance was Panda's, which blazed through the tests in an average time of 1 minute, 46 seconds. This was more than seven times faster than the slowest program, Avast, which came dragging in at the back of the pack with an average time of 13 minutes, 11 seconds.
When AV-Test evaluated the products' outbreak-response performance, all responded to incidents within 12 hours on average. Kaspersky had the fastest response time--from less than an hour to 2 hours. BitDefender and F-Secure were close behind at 2 to 4 hours. AntiVir and PC-cillin had response times of 4 to 6 hours; Panda took 6 to 8 hours; AVG, Avast, and McAfee took 8 to 10 hours, and Symantec taking the longest at 10 to 12 hours.
Features Vary, Slightly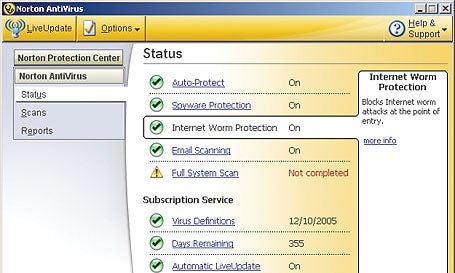 Some packages provide nice extras. All automatically and regularly download virus signature files and application updates. Most will let you set up full or customized scans on a defined schedule. Some, such as the free AVG, are relatively rigid, allowing only scheduled scans of predefined drives or file types. Unlike every other program here, Panda's doesn't permit you to set up a regularly scheduled scan; for that, you'll need the full Panda Platinum 2006 Internet Security Suite.
Many programs have adopted console screens--similar to Windows XP's SP2 Security Center--that provide a general overview of your PC's status. Symantec's Norton Protection Center, for example, tells you how secure your PC is when you perform common activities such as using e-mail or surfing the Web. In some ways, these consoles (McAfee's Security Center, for one) are platforms for blatant attempts by the companies to market their other products, but they can be useful for finding security holes.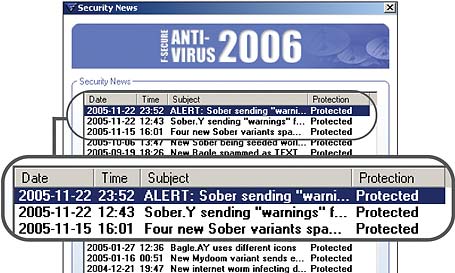 F-Secure and Panda provide breaking security news from their system tray icons. BitDefender puts a small window called the File Zone on your desktop to supply a running, graphical representation of the number of files that have been scanned in the past few minutes (you can turn the option off).
All of the products we tested come with e-mail technical support for the duration of the virus-software subscription (one year for the paid programs and indefinitely for the free ones). BitDefender, F-Secure, Kaspersky, Panda, and Trend Micro all offer free telephone support--on weekdays, at least. Symantec's phone support costs $30 per incident; McAfee charges $3 per minute for help. If you think you might wind up needing phone support, you should consider these prices when making your buying decision. One or two lengthy calls could add up to the price of the software.
The Convenience Factor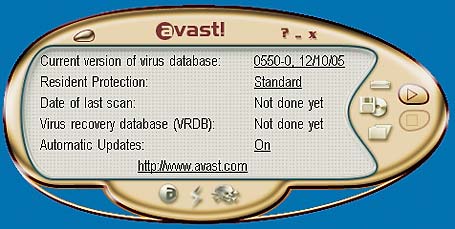 Trend Micro's PC-cillin was the easiest product to use. It packs a lot of security information in an easy-to-understand interface. And while intuitive for novice users to navigate, it still provides the choices and settings that seasoned users would require to configure the software.
Alwil's Avast distinguishes itself with a unique and flashy main console--complete with customizable skins--that looks similar to some media players. The console provides the same information as those of other programs, but it hides some features behind surrounding icon buttons.
The interfaces on other programs are fairly basic. BitDefender's opening screen notifies users only whether virus protection and automatic updates are turned on. More-useful features are located in screens accessed on the left side of the window. They open intuitive toolbars that let you quickly access details; here you can specify whether you wish to receive security notifications or change the color scheme of the interface, for example.
Grisoft AVG's main window is practically useless. Its sparse collection of options--Scan Computer, Scan Selected Areas, and Check For Updates--underscore the limited nature of the software's features, and some configuration options remind you that certain tools are available only in the paid upgrade product, AVG Professional (which we couldn't test due to space and time constraints).
However, thanks to free products such as Grisoft's AVG Free Edition, you don't have to shell out any money to win the fight against known viruses. Though no antivirus package can completely protect your PC against unknown threats, choosing one of our top-rated products will at least give you the best protection you can get right now.
Shop Tech Products at Amazon