Page 5 of 6
Antivirus Alternative: Microsoft OneCare Live

Microsoft will soon join the ranks of companies that offer all-in-one security protection to consumers. We took a look at the public beta of Windows OneCare Live, a new subscription-based PC protection package. It is one of several Internet-based services that are available for download from the Windows Live Ideas page.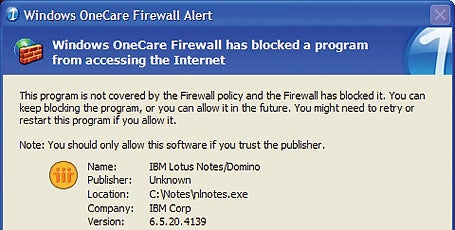 OneCare Live is a collection of security tools and utilities that you can manage in a single interface. The security components currently consist of antivirus software and a firewall; Microsoft expects to add an antispyware application in a subsequent beta version. Other utilities in the set include a backup application and a tune-up routine that automates tasks such as disk defragmentation and disk cleanup.
Like most antivirus tools, OneCare Live lets you scan on demand or on a schedule, configure the files and folders you would like scanned, and exclude files from the scanning process. Currently, it performs no inbound or outbound e-mail scanning, and it scans instant messaging traffic only from MSN Messenger; the company says, however, that it plans to incorporate e-mail scanning and will consider additional IM client scanning later on. A layer of behavior-based protection monitors files for suspicious activities, such as modification of Registry keys. Our first scan took an acceptable 15-plus minutes.
OneCare's firewall, which monitors both inbound and outbound network traffic, is a beefed-up version of the Windows Firewall, which tracks only inbound traffic. Upon first use, OneCare asked us about software activity that it didn't recognize, such as an iTunes software update and Lotus Notes network activity. For the most part, it stayed out of our way so long as we kept up with security updates.
Installation was easy, though it required us to use Internet Explorer 6. (Checking for security updates necessitates using Internet Explorer 5 or later.) A Web-based wizard assessed our system to see whether it met the minimum requirements, as well as to spot possible software conflicts, before allowing us to install OneCare. Microsoft says that OneCare will check to make sure that you have no conflicting antivirus software running during installation, but it did not recognize the client version of Symantec's Norton AntiVirus Corporate Edition installed on our PC. However, a reader commenting on our Today @ PC World blog, reported that it did detect and prompt for the removal of the desktop version of Norton AntiVirus.
Microsoft hasn't set a price for the package, but a Purchase Now button indicates that OneCare won't be free forever.
Narasu Rebbapragada
Shop Tech Products at Amazon