Page 10 of 10
HSDPA vs. EvDO: Cingular Starts Its Own Broadband Service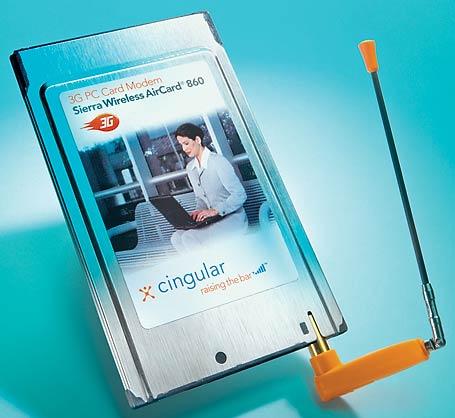 Cingular may be something of a late arrival to the wireless broadband party, but there's nothing laggardly about the performance of its new High Speed Downlink Packet Access network.
We received Sierra Wireless's AirCard 860 for Cingular's new BroadbandConnect service after all our EvDO testing was complete, so we were able to try it out in only one city, San Francisco. There, on the whole, we experienced excellent results: Web browsing was noticeably more responsive and downloads were faster than on Verizon's network. In fact, data speeds ran about 1 mbps--faster than the 400 to 700 kbps speeds that Cingular touts.
The improvement was especially noticeable in areas where EvDO signals were weaker. At locations where streaming video was unwatchable and Skype phone calls were unintelligible over Verizon's BroadbandAccess service, we were able to receive uninterrupted video and carry on extended, crystal-clear VoIP calls on Cingular's network. "Can you hear me now?" Indeed.
But we did encounter a few problems. First, the design of the hardware is dated and problematic: The AirCard 860 has a slender, jointed antenna that extends 3.5 inches vertically. While a longer antenna is normally preferable, this one is flimsy, and may interfere with typing if your laptop's PC Card slot is positioned near the front. And when you remove the card, there's no good way to pack it to ensure the delicate antenna won't break off.
A bigger concern was with the BroadbandConnect software. In our tests, the lengthy installation conflicted with Google Desktop Search (a problem Cingular says it has been unable to reproduce), and the software attempted to take over management of our existing Wi-Fi setup. Because the BroadbandConnect card is a six-band, dual-mode product, it can take up to 2 minutes to optimize its settings when you initiate a connection in a new location.
Fix the archaic antenna and streamline the software, however, and we'd pronounce HSDPA the winner in the current 3G race.
Shop Tech Products at Amazon