Page 8 of 10
3G Laptops: Wireless Broadband, Without Extra Hardware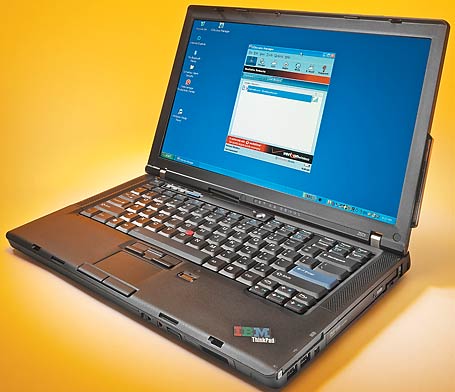 As happened with Wi-Fi, equipment manufacturers are starting to jump on the WAN bandwagon by integrating EvDO or HSDPA radios into their latest equipment. This year will see a flood of notebooks arriving with built-in WAN hardware.
The big benefit: As with an integrated Wi-Fi adapter, integrated wireless WAN capability means no bulky, fragile PC Card to carry around. There's also no enormous antenna jutting out of the side of your notebook, possibly preventing it from fitting in your laptop bag. On the Lenovo ThinkPad Z60, which we tested for this story, the integrated Verizon EvDO's WAN antenna is a barely noticeable sliver attached to the right side of the lid.
In daily use, working with the integrated EvDO adapter is functionally identical to using the PC Card version. Even the connection software is unchanged.
But while we enjoyed not having to haul extra hardware around, integrated WAN presents a number of risks. Primarily, you're stuck with it for the long haul, since you can't swap the wireless hardware into a new laptop, and you can't switch carriers if the service isn't what you expected. Ditto if faster 4G technology arrives earlier than anticipated; you could be forced to upgrade early.
On the other hand, 3G networks may outlive your laptop, anyway. If you're sold on the technology and don't mind sticking with one data service provider for the next two to three years, having the convenience and durability of integrated WAN hardware is definitely worth serious consideration. Just make sure that you try out (and are satisfied with) the exact hardware you're pondering--before you dive in headfirst.
Shop Tech Products at Amazon