LAS VEGAS -- Palm's first Windows Mobile-based Treo will go on sale on Thursday, Verizon Wireless and Palm officials announced today.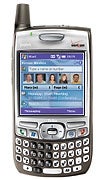 Initially, the Palm Treo 700w Smartphone will be available only from Verizon Wireless. The device, designed to support Verizon's speedy BroadbandAccess EvDO network, will cost $500 after rebates, or $400 for buyers who purchase it in conjunction with a new two-year Verizon Wireless voice plan costing $40 or more per month, as well as with an unlimited data plan costing an additional $50 per month.
Announced last fall, the Treo 700w runs the Windows Mobile 5 operating system with some Treo-specific modifications. For starters, the signature Windows Mobile Today screen now includes a field where you can start typing a contact name or phone number in order to access and dial the phone number quickly. Another new field on the Today screen lets you enter keywords for a Google Web search. If you associate contacts with images, you can set up a visual speed dial feature that displays thumbnails of contacts on the Today screen; then, to initiate your call, you can simply choose the image of the person you want to dial.
Palm in turn has modified the Treo to accommodate the Windows Mobile OS. The center navigation button is now flanked on the left by a button for launching the Windows Mobile Start menu, and on the right by an OK button that you can use in place of clicking OK with a stylus on a Windows Mobile screen. The device also has right and left action keys that activate lower right and left-hand window options.
The Treo 700w features a 1.3-megapixel camera and 128MB of memory, 60MB of which is available to users. Built-in Bluetooth supports headsets and hands-free car kits, but it doesn't support use of the 700w as a modem for dial-up networking; Verizon Wireless says that it plans to add this functionality.
For more CES coverage, head to PC World's CES InfoCenter.