Harmony's Work-Through-Walls Remote
At a Glance
Logitech Harmony 890 Advanced Universal Remote

PCWorld Rating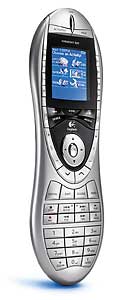 My favorite gadget these days is a universal remote control for operating devices in other rooms and on different floors. So I was eager to try Logitech's $399 Harmony 890 Advanced Universal Remote Control, the company's first with the radio frequency (RF) capability required to control consumer electronics anywhere in the house.
The beautifully designed 890, which also works as a standard infrared remote, works like other Harmony remotes in terms of setup: You connect it to your PC via USB and answer a few simple questions on the Harmony Web site; then the codes for your existing infrared remotes download to the 890.
It took a bit more effort to get the Harmony to work with its wireless RF extender (the hardware that sits in the other room and responds to the RF signal by sending infrared signals to your electronics gear). To enable the RF features, I had to specify whether the device I wanted to control was to be operated by the remote (via infrared) or by the extender.
The 890 did practically everything I asked of it, flawlessly controlling equipment located in a nearby room. Unfortunately, my shipping unit routinely lost the connection when I tried to control my first-floor stereo equipment from the second floor, where I have remote speakers. In contrast, my year-old Home Theater Master MX-600 from Universal Remote (purchased for $450 and now available for half that much) handles this location easily.
The Harmony 890 is certainly an outstanding universal remote, and its RF features worked well through walls and doors. But if you're looking to control a device on another floor, consider buying the older MX-600 instead.
Logitech Harmony 890 Advanced Universal Remote Control

Well-designed universal remote with RF capability works well in most locations.
Price when reviewed: $399
Current price (if available)
At a Glance
Logitech Harmony 890 Advanced Universal Remote

PCWorld Rating
Shop Tech Products at Amazon