Network Drive Touts Backup
At a Glance
Iomega 250GB STORCENTER NETWORK DRIVE

PCWorld Rating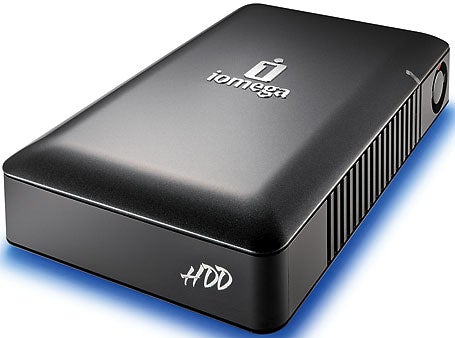 Network storage is undeniably convenient for backing up documents and storing media files. Iomega's $289 StorCenter Network Hard Drive is very similar to others in its category, distinguished mainly by its physical design and distinctive software bundle.
I tested a shipping version of the 250GB StorCenter and found much to like. Unlike most network hard drives I've seen, which lack a switch and are always on, the sleek black unit has a power switch on the back. Like competing drives, such as the pricier Maxtor 500GB Shared Storage Plus ($500), the Iomega has two USB 2.0 expansion ports (for attaching other storage devices or a printer), is Universal Plug and Play-compliant (for use with a UPnP media server), and has gigabit ethernet.
Installation was simple; I attached the drive to the network and ran the installation utility, and my system's OS automatically assigned the StorCenter a drive letter. Iomega's installer has a friendly, unimposing design, as does its Discovery Tools software, which can be run at any time to find the drive's IP address, rename the drive, or change the drive mapping.
The remainder of the software bundle consists of the full version of Iomega's capable Automatic Backup Pro 3.3 software (a $70 value by itself) and Microsoft's FolderShare, for secure data sharing via the Internet. The included free (limited) FolderShare program would have set this drive apart, but regrettably the service was scheduled for discontinuation in early 2006.
The Automatic Backup Pro software and power switch make this drive an attractive option. But the drive's 250GB capacity feels limited, given that a number of networked drives come in capacities up to twice that (and priced accordingly, of course).
Iomega StorCenter Network Hard Drive

Despite limited storage capacity (250GB), this drive scores with easy installation, backup software, and the ability to power off.
List: $289
Current prices (if available)
At a Glance
Iomega 250GB STORCENTER NETWORK DRIVE

PCWorld Rating

This drive scores with easy installation, Iomega's Automatic Backup Pro software.

Pros

Iomega's utilities make set up easy
Useful Automatic Backup Pro software

Cons

Integrated fan is exceptionally noisy
Shop Tech Products at Amazon