Notebooks Rev Up With Dual-Core Tech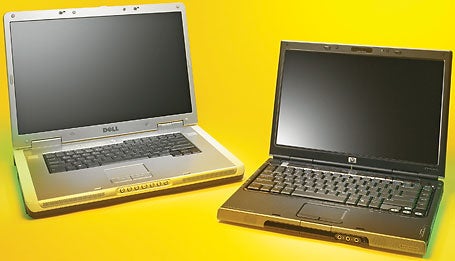 Notebooks are receiving a power boost as Intel brings dual-core technology to its mobile processors. Like dual-core desktops, new dual-core laptops in our tests showed the biggest improvements when doing two tasks at once. And you still get good battery life.
Eschewing the Pentium M name, Intel's new chips come in two lines: Core Duo T for mainstream notebooks, and Core Duo L low-voltage CPUs for ultralight laptops. The T line will range from the 1.66-GHz T2300 to the 2.16-GHz T2600; the L line will have two variants, the 1.5-GHz L2300 and the 1.66-GHz L2400.
Core Duo chips, formerly code-named Yonah, sport a faster, 667-MHz frontside bus (up from 533-MHz); support for faster memory matching the bus speed; a new 945 GM/PM chip set; and Intel's new wireless 802.11a/b/g chip set. Like the Pentium M line, the new CPUs provide a 2MB L2 cache. Additionally, with Intel's power-management technology, they can detect a light workload and shut down one core to improve battery life.
The PC World Test Center looked at two laptops carrying 2-GHz Core Duo T2500 CPUs and 1GB of RAM: a $1923 HP Pavilion dv1000 and a $2307 Dell Inspiron E1705. Each unit earned a WorldBench 5 score of 97, which puts them among the fastest portables we've ever tested. The highest-scoring model in our current Top 10 chart, the Acer Aspire AS9504WSMi, came with a 2-GHz Pentium M 760 chip and earned a score of 99, just 2 points higher than the Core Duo notebooks despite having double the memory.
The Core Duo systems really showed their mettle when juggling multiple jobs. In our multitasking test, where we browse the Web while converting a video file from one format to another, the two units completed the tasks about 30 percent faster than the Acer did. The new systems also performed very well in our Windows Media Encoder and Roxio VideoWave tests (see chart below).
The portables ran fairly cool and quiet. Using a nine-cell battery (a $99 option), the 8.2-pound E1705 ran out of gas after 2 hours, 32 minutes--fairly typical for a laptop with a 17-inch wide screen. The 5.6-pound dv1000, a 14-inch wide-screen model, did better at 3 hours, 51 minutes, nearly matching the 4-hour battery life we saw from a single-core version of it last year.
If you work with multiple apps at once or edit digital media, you'll get a lot out of the new units. And they cost only about $100 more than similarly configured single-core laptops. Core Duo systems should be available now.
Dual-Core vs. Single-Core Notebooks (chart)
Laptops with dual-core processors complete digital media work and multiple tasks significantly faster than single-core systems.


Shop Tech Products at Amazon