Internet Explorer 7 Beta 2 Preview Now Available for Public Download
A preview version of an updated beta of Microsoft's Internet Explorer 7 is available to the general public starting today.
Microsoft hasn't changed much in this version of the browser since PC World compared the first IE 7 beta to Mozilla's Firefox 1.5 Release Candidate 1 and Opera 9 Preview 1. But IE 7 is a different beast entirely than the IE you are probably using today.
This iteration of the world's dominant browser adds a number of features long since taken for granted by alternative-browser users, such as tabbed browsing, a toolbar-integrated search box, and limited RSS support.
IE 7 also has a much more compact and streamlined interface than its predecessor, with a strong emphasis on dedicating as much of the window as possible to the displayed Web site. Also included are a number of security upgrades, like a new antiphishing filter. Go here to download the the preview of IE 7 beta 2.
Note that this version of the browser is compatible only with Windows XP Service Pack 2. And, like any still-in-development version, this release has bugs and rough edges. Some pages don't display properly, for instance, and the browser will crash more than you'd like.
(For a hands-on tour and more screenshots of the new beta from PC World's Editor in Chief Harry McCracken, go here.)
Different Interface
You'll notice IE 7's interface changes right away. A mere two slim toolbars reside up top, with navigation buttons like Back, Forward, Refresh, and Home split up to make the best use of space.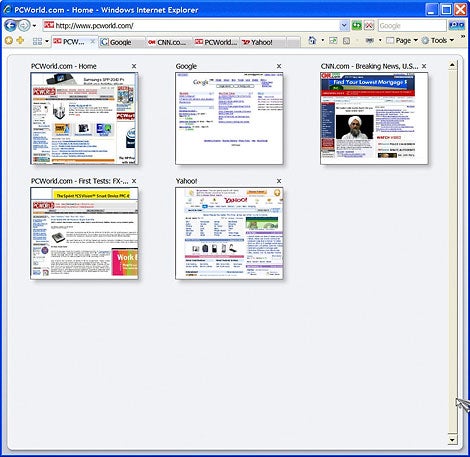 Tabs, also new to version 7, show up on the second toolbar. You can't move the tabs around, but you'll find a nice new feature called Quick Tabs. Click a gridlike icon next to the tabs, and you'll see a thumbnail-page display of all your currently open tabs. Firefox can mimic this feature with an add-on, but neither it nor Opera has it built in.
Improved Security
New security features in IE 7 include an antiphishing filter that warns you if you happen across a known phishing site, better ActiveX management that disables potentially vulnerable controls by default, and programming changes that try to reduce the number of avenues for attack.
The browser also has a thorough flush feature that clears the browser history, cache, cookies, and other personal browsing data with one selection from the Tools menu.
RSS Features in IE 7
IE 7 lets you easily find and bookmark an RSS feed on any given Web page. But once you're subscribed, you have no way to get a quick preview of that feed's headlines--as you can with Firefox's Live Bookmarks--so you lose a significant part of RSS's usefulness.
It remains to be seen how the new IE will stack up against its increasingly popular competitors. But its release presents no downside: IE finally gets an upgrade, and the newly revived browser wars spur competition that hopefully will make all our browsers better.