In keeping with its new policy of providing frequent interim updates of its forthcoming Windows Vista to developers and customers, Microsoft today released Build 5308 of the operating system. Officials say this latest version is now feature-complete, although some of the features may still need work.
Most of the latest prerelease version's new features are aimed at enterprise customers looking to minimize the cost of rolling out and maintaining hundreds or thousands of computers. But Build 5308 contains one nifty and long-awaited new feature designed to dazzle all desktop users: Gadgets.
Gadget Central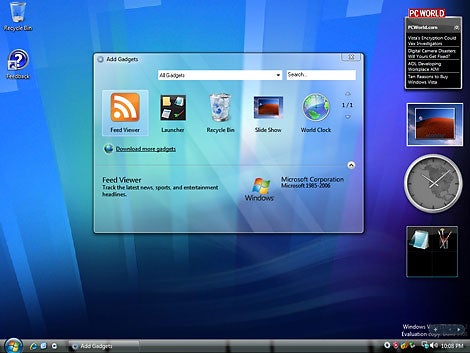 Like the Widgets in Mac OS X and Yahoo, Vista's Gadgets are special-purpose programs for small jobs such as displaying the weather, time of day, a slideshow, or your favorite web site's RSS feed. Unlike Widgets, however, Vista's gadgets can either float freely about your desktop, or live within the confines of the Sidebar, a vertical gadget dock on the side of the desktop that you bring to life or banish with a couple of clicks.
Microsoft has demonstrated this feature before, but it has not been a part of any previous test version. Vista's programming interface also allows developers to build their own Gadgets.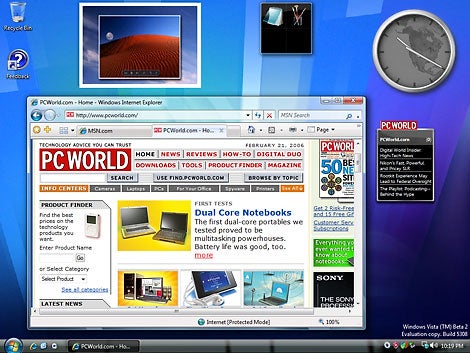 Eventually, you'll be able to augment Vista's gadget arsenal with the dozens of devices already available at Microsoft's Live.com site (they also run on your free and customizable Windows Live page via Internet Explorer). However right now you can only use the Gadgets you find in Live.com in Windows Live; at this writing you can't yet move them to Vista.
Build 5308 is the fourth prerelease version of Windows Vista under the company's Community Technology Preview (CTP) program, which makes new builds available to reporters and selected customers and developers every few months.
Business Testing
Microsoft said it will encourage enterprises to use it in preparation for the general availability of the operating system later this year. According to the company, the CTP includes a host of new and enhanced tools for enterprises to plan, test, build, and deploy Vista.
According to Microsoft, manual deployments of an OS across enterprise desktops can cost as much as $1,000 per PC. Microsoft is eager for large businesses to update to Windows Vista, and so plans to simplify the deployment process with a host of tools and resources aimed at making it more cost-effective and easier to manage. The sum of these efforts is to reduce the cost of per-desktop deployment to below $100, according to Microsoft.
Other Features
The Vista's Welcome Center interface, which allows for adding user accounts and provides tutorials, also appears in the new test version. OEMs (original equipment manufacturers) also can customize Welcome Center, accessible from the All Programs and Control Panel functions of the Start Menu, to offer add-on products to customers.
Windows Vista is now feature-complete, but the company said features could change and evolve as the product continues to go through testing. However, Microsoft's primary focus for Vista now is to fine tune the OS as much as possible.
Today's release of Windows Vista will be distributed to testers in the Windows Vista Technical Beta Program, as well as made available to Microsoft Developer Network and TechNet subscribers.
Elizabeth Montalbano of IDG News Service contributed to this story.