At a Glance
Asus A8R-MVP Motherboard (Athlon X2/ Athlon 64/ Sempron, Socket 939, Radeon Xpress 200 Crossfire, ATX, 4GB DDR, 1GHz Bus)

PCWorld Rating

Asus A8N32-SLI Deluxe Motherboard (Athlon X2/ Athlon FX/ Athlon 64/ Sempron, nForce4 SLI X16, Socket 939, ATX, 4GB DDR, 1000MHz Bus)

PCWorld Rating

eVGA nForce4 SLI Motherboard (Athlon 64 FX, Socket 939, nForce4 SLI, ATX, 4GB DDR, 1000MHz)

PCWorld Rating

DFI LANPARTY UT RDX200 CF-DR Motherboard (Athlon X2/Athlon FX/Athlon 64/Sempron, Socket 939, Radeon Xpress 200 CrossFire, 4GB DDR, 1GHz Bus)

PCWorld Rating

Gigabyte GA-K8N PRO-SLI Motherboard (Athlon 64, Socket 939, nForce4 SLI, ATX, 4GB DDR, 2000MHz FSB)

PCWorld Rating

Asus P5N32-SLI Deluxe Motherboard (Pentium EE/Pentium D/Pentium 4/Celeron, Socket 775, nForce4 SLI, ATX, 16GB DDR2, 1066MHz FSB)

PCWorld Rating

ABIT AW8-MAX Motherboard (Pentium 4 Extreme/Pentium Extreme/Pentium D, Socket 775, 955X, ATX, 8GB DDR2, 1066MHz FSB)

PCWorld Rating

Intel D975XBX Motherboard (Pentium D/Pentium EE/Pentium 4, Socket 775, ATX, 8GB DDR2, 1066MHz FSB)

PCWorld Rating

Gigabyte G1-Turbo GA-G1975X Motherboard (Pentium D/ Pentium 4, LGA775, 975X, ATX, 8GB DDR2, 1066MHz FSB)

PCWorld Rating

Foxconn 955X7AA-8EKRS2 Motherboard (Pentium D/Pentium 4, Socket 775, 955X, ATX, 8GB DDR2, 1066MHz FSB)

PCWorld Rating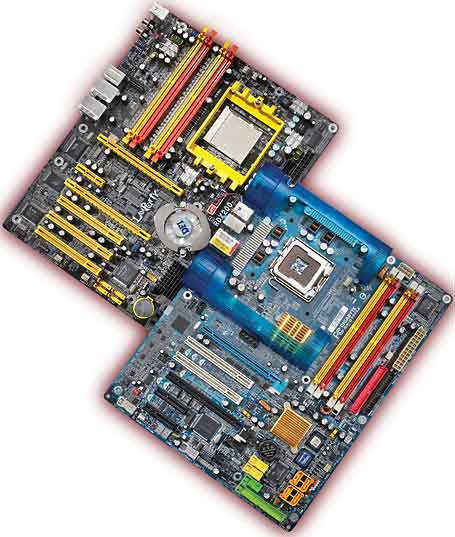 Want to build the perfect PC? The first thing you'll need is a motherboard. If the processor is the brains of your computer, the motherboard is its nervous system: It provides the pathways that allow the processor to talk to the other components. Finding the perfect motherboard means navigating a minefield of technical jargon and marketing buzzwords,
And it can be tricky for even the savviest PC enthusiasts. But with a bit of inside knowledge, you can determine which board is right for you.
Some of the best boards aren't even that expensive. Though our two top picks--Asus's $215 A8N32-SLI Deluxe for AMD chips and its $200 P5N32-SLI Deluxe for Intel CPUs--cost a significant chunk of change, other highly rated models come in at around the $100 mark. Both Asus products provide a great selection of features, one of which is an external SATA port. In addition, they support nVidia's SLI dual-graphics card technology, another performance-friendly feature. But even some less-expensive motherboards, like Gigabyte's $105 GA-K8N Pro-SLI, support dual graphics boards and advanced RAID features.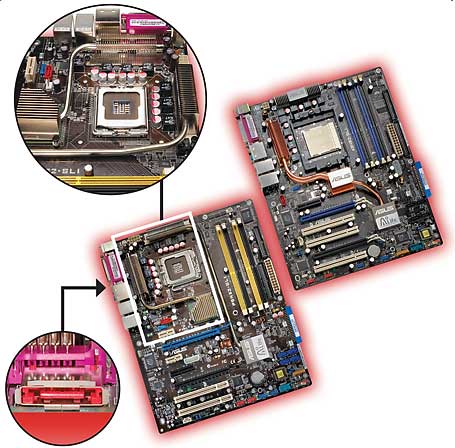 We rounded up 14 motherboards and then set the PC World Test Center loose on them, using similarly priced Intel and AMD dual-core processors (a $450 3.2-GHz Pentium D 940 and a $460 2.2-GHz Athlon 64 X2 4400+) and fast memory (2GB of Corsair DDR2-667 RAM for the Intel boards and 2GB of DDR400 RAM for the AMD models). Other components of the systems were identical. The Test Center ran our WorldBench 5 test suite and several of the gaming tests we use to assess graphics boards; however, it found few performance differences that we could attribute to the motherboards themselves. The seven boards designed for AMD processors were an insignificant three points apart on WorldBench 5. The $120 Abit AN8 Ultra tied for the highest score, 123, but missed our chart due to poor ratings for design and features. DFI's $169 LanParty UT RDX200 CF-DR wasn't very far behind with a score of 120. On the Intel side, the Test Center saw a slightly broader array of WorldBench 5 scores, ranging from 107 for the Intel D975XBX motherboard to 113 for the Gigabyte GA-G1975X board. In tests of 3D game performance, we saw differences of only a few frames per second between systems with the same CPU.
These negligible differences in our performance tests convinced us that performance isn't a compelling factor in choosing among the motherboards in a given category. Instead, you should look for a well-designed board capable of supporting the processor you want while also offering the features and specs you need.
In this Article:
At a Glance
Asus A8R-MVP Motherboard (Athlon X2/ Athlon 64/ Sempron, Socket 939, Radeon Xpress 200 Crossfire, ATX, 4GB DDR, 1GHz Bus)

PCWorld Rating

Asus A8N32-SLI Deluxe Motherboard (Athlon X2/ Athlon FX/ Athlon 64/ Sempron, nForce4 SLI X16, Socket 939, ATX, 4GB DDR, 1000MHz Bus)

PCWorld Rating

eVGA nForce4 SLI Motherboard (Athlon 64 FX, Socket 939, nForce4 SLI, ATX, 4GB DDR, 1000MHz)

PCWorld Rating

DFI LANPARTY UT RDX200 CF-DR Motherboard (Athlon X2/Athlon FX/Athlon 64/Sempron, Socket 939, Radeon Xpress 200 CrossFire, 4GB DDR, 1GHz Bus)

PCWorld Rating

Gigabyte GA-K8N PRO-SLI Motherboard (Athlon 64, Socket 939, nForce4 SLI, ATX, 4GB DDR, 2000MHz FSB)

PCWorld Rating

Asus P5N32-SLI Deluxe Motherboard (Pentium EE/Pentium D/Pentium 4/Celeron, Socket 775, nForce4 SLI, ATX, 16GB DDR2, 1066MHz FSB)

PCWorld Rating

ABIT AW8-MAX Motherboard (Pentium 4 Extreme/Pentium Extreme/Pentium D, Socket 775, 955X, ATX, 8GB DDR2, 1066MHz FSB)

PCWorld Rating

Intel D975XBX Motherboard (Pentium D/Pentium EE/Pentium 4, Socket 775, ATX, 8GB DDR2, 1066MHz FSB)

PCWorld Rating

Gigabyte G1-Turbo GA-G1975X Motherboard (Pentium D/ Pentium 4, LGA775, 975X, ATX, 8GB DDR2, 1066MHz FSB)

PCWorld Rating

Foxconn 955X7AA-8EKRS2 Motherboard (Pentium D/Pentium 4, Socket 775, 955X, ATX, 8GB DDR2, 1066MHz FSB)

PCWorld Rating
Shop Tech Products at Amazon