New nVidia-Based Cards Hit Every Price Range
At a Glance
PNY GeForce 7900GTX OC Limited Edition

PCWorld Rating

BFG Technologies GeForce 7900 GT OC

PCWorld Rating

XFX GeForce 7600 GT Video Card (256MB, PCI Express x16, Dual DVI)

PCWorld Rating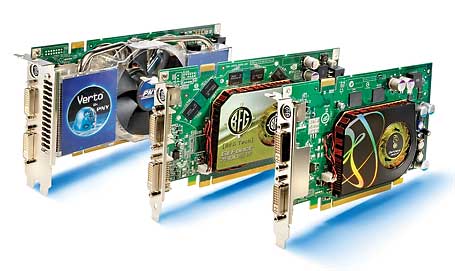 New video cards based on nVidia's latest crop of chips offer something for just about everyone: an ultra-high-end board for big spenders, an inexpensive power card for serious speed enthusiasts, and a fast mainstream product for generalists. I examined three shipping products using the chips, and got some interesting results.
You receive more than just the oversize two-slot board in PNY Technologies' $525 GeForce 7900 GTX Limited Edition package. The company throws in a handy tool kit, a 500MB flash drive, and a felt-lined metal carrying case (with a too-flimsy plastic lid). The extras are fun--though getting a game or two would have been nice--but the primary reason to buy a graphics board like this is performance, and in that respect the 7900 GTX's results were mixed.
That's not to say that it isn't fast--it is--but in our tests the 512MB board rarely outperformed a previously tested XFX GeForce 7800 GTX XXX Edition; admittedly, however, the new card costs considerably less than the outrageous $750 commanded by that hard-to-find board. The 7900 GTX did outrun ATI's $600 Radeon X1900 XTX on most tasks, though not often by a significant margin. In the end, PNY's card didn't blow by the competition, but the 7900 GTX did earn our top performance rating for the power category.
Specifically, in tests conducted at 1600 by 1200 resolution with antialiasing turned off, the 7900 GTX beat competing boards (frequently by just a few frames per second) on five tests and tied on three other tests with the 7800 GTX. The 7800 GTX won a single test, as did the X1900 XTX. The 7900 GTX's less-than-astounding performance on our tests is not entirely its fault--these high-end cards are so fast that they're starting to outpace the rest of our test systems in some benchmarks.
One notch below the 7900 GTX is BFG Technologies' $330 GeForce 7900 GT OC, with 256MB of memory. BFG does not offer much in the way of extras (the only included application is GameDrive 9.0); but for the budget-minded performance hound, this card is a solid bet. In our tests it generally outperformed the competing XFX GeForce 7800 GT ($300) and Asus Radeon EAS X1800 XL ($380).
King of Mainstream
Both the 7900 GTX and the 7900 GT OC are quite fast, but my favorite of this group is XFX's GeForce 7600GT XXX Edition. This $209 card comes with XFX's excellent manuals and accessories, as well as one slightly dated game (Starship Troopers), but the real draw here is the speedy little single-slot graphics board itself.
The 7600GT sped away with nearly every test that we ran, earning the top performance score possible in our mainstream category. Its performance was notably impressive versus such comparable cards as EVGA's $179 e-GeForce 6800 GS and PowerColor's Radeon X1600 XT Bravo Edition ($169). XFX's graphics board was the clear winner at both of our test resolutions (1024 by 768 and 1600 by 1200) and with antialiasing turned on or turned off.
With its most recent product launch, nVidia has rolled out chips to suit just about everyone. If you've waited to buy at the high end, you won't be disappointed by the 7900 cards (7800 owners should skip this upgrade, though). And the 7600GT is a winner, offering top-of-its-class performance at a reasonable price.
At a Glance
PNY GeForce 7900GTX OC Limited Edition

PCWorld Rating

BFG Technologies GeForce 7900 GT OC

PCWorld Rating

XFX GeForce 7600 GT Video Card (256MB, PCI Express x16, Dual DVI)

PCWorld Rating
Shop Tech Products at Amazon