Quantum GoVault Drive Offers Data Safety, Portability
At a Glance
Quantum GoVault Drive

PCWorld Rating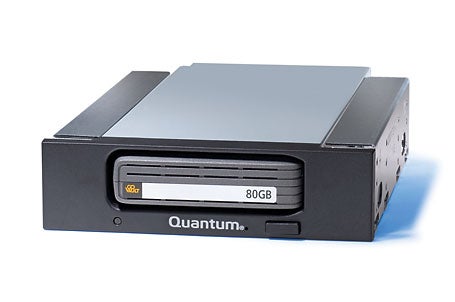 The success of Iomega's Rev drive proves that a niche remains for removable hard disk drives, which are speedier and roomier than CD/DVD products. Quantum's new GoVault Drive is a brilliantly simple idea incorporating off-the-shelf technology to create a cartridge system that should be every bit as reliable as a hard drive.
The GoVault dock mounts in any 3.5-inch or 5.25-inch drive bay and accepts a shock-protected, 3.4-ounce, write-protectable and password-securable cartridge roughly the size of a deck of cards. Unlike previous products, GoVault cartridges contain a sealed 5400-rpm, 2.5-inch SATA hard drive. Most earlier systems introduced external read/write heads into the platter-only cartridge, raising the possibility that contaminants might enter there and wreak havoc.
In our tests of a shipping unit, the GoVault's performance was good, though not as fast as most internal hard drives. The product runs only slightly warm--although it's quiet--with cartridges spinning up and appearing quickly as available storage. Since the drive's 300-MBps SATA interface has plenty of headroom to spare, faster hard drives and firmware updates presumably will improve future cartridge performance.
Now for the bad news: The GoVault Drive system gets expensive quickly. The starter system--consisting of the dock, a 40GB cartridge, and the multi-OS Yosemite Backup software--sells for $299, but additional cartridges cost $120 for a 40GB unit, $189 for 80GB, and $319 for 120GB. That makes the cost per gigabyte for media about two times the Rev's.
Nonetheless, the prospective reliability of the GoVault system, evidenced by a three-year warranty, makes it worth a look if you're considering the Rev or tape backup.
Quantum GoVault Drive
Expensive but quick and portable storage system should prove to be extremely reliable.
Price when reviewed: $299 for a dock and one 40GB cartridge
Current prices (if available)
At a Glance
Quantum GoVault Drive

PCWorld Rating
Shop Tech Products at Amazon