New Devices Promise Protection in a Box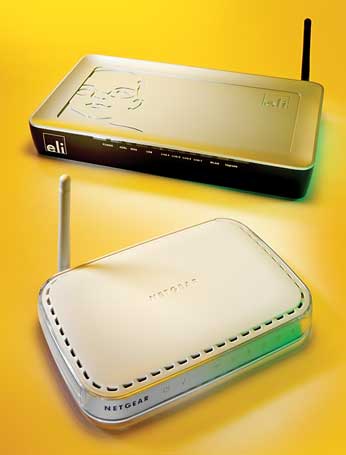 Keeping a PC secure is a hassle. You need to run antivirus and antispyware software, a firewall, and perhaps an antiphishing toolbar, all of which have to be updated and managed. But manufacturers of a new class of security appliances are promising simpler security through hardware that stops threats before they reach your network.
These smart gateways run security software that is managed automatically. New virus definitions and application updates are pushed to the devices from the companies that sell and manage them.
But can a security-focused gateway truly replace the desktop antivirus and firewall software you run on your PC? Our tests indicate the answer is no, as security appliances can't remove infections that are already on computers or stop all new infections. But security appliances offer more substantial protection than a typical hardware gateway, and they can prevent unwary users from downloading certain types of malicious software.
Three New Options
We looked at three security appliances: Netgear's $150 WGT624SC Super G Wireless Router, the $150 Spam Cube, and TrustEli's $200 Eli Security Appliance. The Netgear and TrustEli devices both include software to protect against viruses, spyware, phishing attacks, and spam--plus a firewall and software to filter objectionable Web content. The Netgear unit also includes a one-PC license for Trend Micro Home Network Security software. The Spam Cube is more limited in function: The device filters spam and scans your e-mail for viruses.
All of this additional security doesn't come cheap. Besides the cost of the gateways, you'll be charged a monthly or annual maintenance fee for software updates. The Spam Cube has no maintenance fee for spam filtering, but its optional antivirus scanning is $52 a year. Netgear charges users $99 a year (after the first year of use) for maintenance on its Security Edition router. TrustEli charges $120 per year for its update service; you pay for the first year of service when you buy the device.
While you don't have to be a networking expert to install these products, the process isn't exactly a plug-and-play experience, either.
The Eli Security Appliance requires you to do some configuration on the device itself; then, once the unit can connect to the Internet, you must make additional changes on a secure, password-protected Web page. For instance, you can enable virus scanning only via the secure Web page.
The only difference between setting up the Netgear security appliance and any other Netgear gateway is a page on its Web-based installation interface that enables or disables the security settings. Fill in a check box labeled 'Enable Security Services', and the unit's built-in Trend Micro Security software begins filtering incoming e-mail and will block any attempt to load unsavory Web pages. A separate settings page permits you to decide which general categories of Web sites you want to block; categories include gambling, hacking, and porn.
Cube o' Spam
The Spam Cube is the easiest of the three to set up: Just plug one end into your broadband connection and the other into your network gateway. The Spam Cube flags suspect messages by adding a '[SPAM]' or '[VIRUS]' label to the e-mail subject line. Users of Microsoft Outlook or Outlook Express can add 'This is Spam' and 'This is Not Spam' toolbar buttons, for training the Spam Cube. But using the device with a different mail client is tougher: If it labels legitimate messages as spam, the only way to correct it is to visit the unit's Web-based control panel.
While security appliances can stop some kinds of malicious software, such as viruses attached to e-mail messages, these devices can't completely replace antivirus software and two-way software firewalls, such as ZoneAlarm, that monitor activity on each PC. That's because security appliances can't clean a virus or spyware infection from a computer, and they can't prevent users from copying infected files onto their machines from a device like a USB flash memory drive or CD.
But by blocking the sites that host malware downloads, and filtering spam and scam e-mail, security appliances can prevent users from falling into some common security traps. For small businesses with Web-surfing employees, or even homes with download-crazy teenagers, they provide another layer of protection.