Samsung Electronics is planning to put its Q1 ultra mobile PC on sale worldwide in May, the company said Thursday.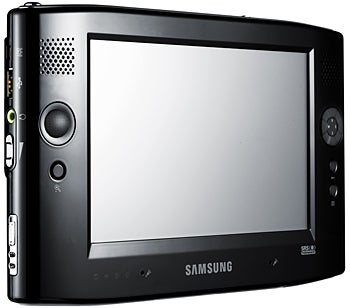 The computer is based on the Origami platform developed by Microsoft and Intel and was one of the stars of the Cebit trade show in Germany last month, where it and the Origami platform were unveiled.
The Q1 will first go on sale in Samsung's home market of South Korea. It will be available from May 1 and will cost $1264, said Anthony Lee, a spokesman for Samsung in Seoul. That's roughly in line with the $1214 price tag that Samsung quoted at Cebit and above Microsoft's predicted $500 to $1000 price range for ultra mobile PCs.
It will also go on sale in May in the U.S., Europe, and China at prices yet to be announced, said Lee.
Samsung hopes to sell around 100,000 units of the Q1 in South Korea within its first 12 months on sale and for overseas sales to total 300,000 units over the same period.
System Specs
Origami machines run a tablet version of the Windows XP operating system and are intended to fit in the market between laptop PCs and PDAs. Samsung's Q1, for example, has a 7-inch LCD monitor and is about half the size of an average laptop PC and lighter. It measures about 10.5 by 9 by 5.5 inches and weighs 1.7 pounds.
Other specifications are slightly below those of a typical laptop PC. The Q1 is based on an Intel Celeron M processor running at 900 MHz. It has 512MB of memory and a 40GB hard drive.
There is a wired and wireless LAN adapter, Bluetooth, and a Compact Flash card slot that could be used for other types of modem.