How to Buy a Digital Camcorder
Introduction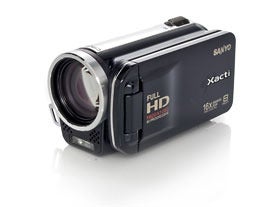 Over the past few years, the trusty camcorder has weathered a sea change of epic proportions. Due to the popularity of HD-shooting smartphones and pocket cameras, as well as DSLRs with stunning video-capture capabilities, the current crop of consumer camcorders has had to sprint in order to keep up.
The sum of all those parts is a buyer's market. Today's high-definition models are smaller, lighter, and more affordable than ever—and despite their tiny sizes, they capture more-vibrant colors, sharper video, and smoother motion than ever before. They also let you save footage to flash memory or hard-disk drives, upload footage to the Web with ease, and capture 3D video.
Whether you want to snag clips of your playful spaniel, create the next indie-film masterpiece, or shoot everything in 3D, we'll direct you to a camcorder that meets your needs.
Flash Is King Flash memory rules the camcorder world these days, but options abound. We help you decide among SD-card-based camcorders, fixed flash drives, and other options. more
What Level of Camcorder Is Right for You? Camcorders span the gamut from pocket-size devices to shoulder-mounted professional models to twin-lens 3D camcorders. Here's a summary of the different types to help you get pointed in the right direction. more
Key Features Learn about digital camcorder basics, and find out how a digital camcorder can help you shoot in various situations. more
The Specs Explained Why should optical zoom matter to you? How much money should you be spending anyway? Learn which specs to pay attention to and why. more
Camcorder Video Formats Explained Can your computer handle AVCHD--and does that really matter? Learn the differences between digital video formats, find out more about codec basics, and see if your system is up to the task. more
Camcorder Quick Tips No time to read everything? Here's some fast advice in what to look for at the store. more
In Video: How to Buy a Camcorder

Amazon Shop buttons are programmatically attached to all reviews, regardless of products' final review scores. Our parent company, IDG, receives advertisement revenue for shopping activity generated by the links. Because the buttons are attached programmatically, they should not be interpreted as editorial endorsements.