First Look: I-O Data's USB-Based Blu-ray Burner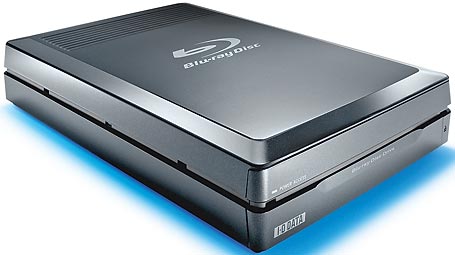 The trickle of Blu-ray Disc devices continues with I-O Data's $999 BRD-UM2/U, the second PC Blu-ray burner to be put through its paces in the PC World Test Center. With its well-rounded specs and solid software bundle, this external USB 2.0 drive is a fine choice for early-adopter consumers and professionals alike.
Form and Function
The drive itself is handsome, sporting a dark chassis with an elegant bevel design, and the Blu-ray Disc logo prominently displayed on the top surface. The rear section of the drive is ventilated; at the back, you'll also find the power switch.
Inside, the unit incorporates the Matshita (Panasonic) SW-5582 internal BD drive. Unlike the first Blu-ray Disc PC recorder that we evaluated, the Pioneer BDR-101A, this model supports the full gamut of optical CD, DVD, and Blu-ray Disc recording. Its specs do match those of the Pioneer model in some respects: 2X BD-R (write-once) and BD-RE (rewritable) write speed, 2X BD-R/RE read speed, and up to 8X write speed on single-layer DVD-R and +R.
Speedy Performer
Not surprisingly, the I-O Data drive's performance is strikingly similar to that of the Pioneer. It took 44 minutes, 27 seconds to master 22GB of data to BD-R, beating out the Pioneer unit by just 18 seconds. The I-O Data's rewrite (BD-RE) performance, however, was significantly slower than its write-once (BD-R) speed, as it took 97 minutes, 43 seconds to format a BD-RE disc and packet-write the same 22GB of data (we didn't test the BD-RE performance of the Pioneer drive, because it didn't ship with packet-writing software).
But the I-O Data drive is the more versatile of the two. It supports double-layer BD-R and BD-RE, so you'll be ready when 50GB media reach store shelves sometime this summer. Plus, it supports reading and writing to CDs--although the CD-R write speed tops out at 24X--and reading and writing to DVD-RAM at 5X. Even the I-O Data unit's DVD±RW and dual-layer DVD±R write speeds are a notch higher.
Factor in its robust software bundle--which includes BD-specific versions of Ulead's DVD MovieWriter 4.7 (for video disc authoring) and InterVideo WinDVD, as well as customized versions of Ulead's Burn.Now 3 (for burning data, MP3, audio, and bootable discs) and InterVideo's WinDVD 5 (for VCD and DVD playback)--and the convenience of an external USB drive, and the I-O Data is a winner.
I-O Data BRD-UM2/U
If you're burning for a Blu-ray drive and are willing to spend early-adopter bucks, the BRD-UM2/U is a fine choice.
Price when reviewed: $999
Current prices (if available)