Web News Wranglers
Configurable Home Pages: Netvibes vs. My Yahoo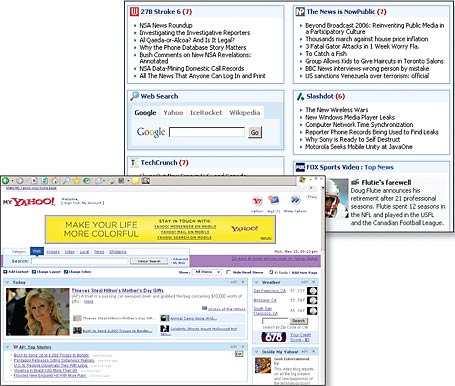 Want a customized starting point for your news reading? Netvibes lets you drag and drop modules to build a flexible home page that combines RSS feeds, Web mail, weather reports, and Flickr photo streams. No log-in is required, and Netvibes will remember the setup for future visits from the same computer.
My Yahoo is also an excellent home page with simple ways to add, move, and remove preconfigured modules, but it gives no way to add non-Yahoo Web mail, and its banner ads are distracting. While its default news photos are nice, adding photos from Flickr (a Yahoo property) to My Yahoo is more difficult than doing so with Netvibes.
Edge: Netvibes

Amazon Shop buttons are programmatically attached to all reviews, regardless of products' final review scores. Our parent company, IDG, receives advertisement revenue for shopping activity generated by the links. Because the buttons are attached programmatically, they should not be interpreted as editorial endorsements.