Alpine's Pricey Blackbird GPS Also Plays Tunes
At a Glance
Generic Company Place Holder Apple MacBook Notebook

PCWorld Rating

Alpine Electronics Blackbird PMD-B100

PCWorld Rating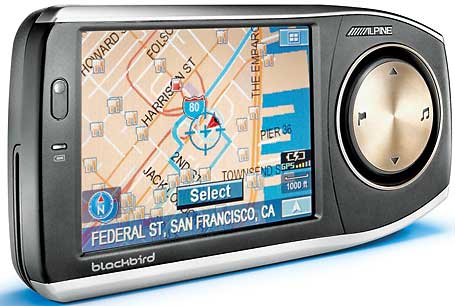 Alpine's reputation for high-quality automotive products is evident in the company's first portable GPS device, the Blackbird PMD-B100. Not only can you set the Blackbird to give turn-by-turn directions over your car's FM radio, the device's Secure Digital/MultiMediaCard memory card slot lets you play MP3 and WMA music files the same way.
The Blackbird measures a compact 6.1 inches wide by 2.9 inches tall by 1.2 inches deep, and it weighs just 8 ounces. It suffers from a few design flaws, however. Chief among them: a large control wheel on the right side of the device for selecting options. Since I was able to use the 3.6-inch touch screen to enter all addresses and to select options, the control wheel becomes an unnecessary waste of space.
The Blackbird may be portable, but attaching it to the windshield cradle and later removing it is an arduous process that just about sprained both my wrists. At least the cradle keeps the Blackbird firmly in place as you drive.
The spoken directions--and your audio files--come in loud and clear through your car's stereo once you have set the Blackbird to an unused FM frequency. You'll want to make use of this option because the unit's small, built-in speaker is difficult to hear, even when set at maximum volume.
The on-screen map and other driving information is easy to see, and, in general, the directions the BlackBird provided were accurate; it did try to direct me over a road in my neighborhood that has been blocked off for several years, but it also found a shortcut in my hometown that saved me time.
A $700 street price makes the Blackbird $100 to $200 more expensive than the competition. However, its ability to play audio files and broadcast driving directions via a car's FM radio could make the extra cost worthwhile.
Alpine Electronics Blackbird PMD-B100
Portable GPS includes handy FM transmitter, but its price leaves something to be desired.
Price when reviewed: $700
Current prices (if available)
www.alpine-usa.com
At a Glance
Generic Company Place Holder Apple MacBook Notebook

PCWorld Rating

Alpine Electronics Blackbird PMD-B100

PCWorld Rating
Shop Tech Products at Amazon