Video Everywhere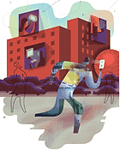 Apple says it has sold over 30 million videos through its iTunes Store since October 2005. That's impressive. But YouTube, currently the most popular site for sharing amateur video, claims to serve up 100 million video viewings each day. That's stupefying.
These days, everything from Hollywood films and TV shows to clips from ordinary users is available right in your browser. Even cell phones are in on the act, with news, sports, and lots of short video segments just a dial away. But although video options are proliferating at an astonishing pace, problems persist, including format incompatibility across platforms, license restrictions on content, and--still--a limited selection of good videos.
Following is your guide to surfing the new video wave, with tips for viewing movies on your PC and on the go, plus pointers on sharing your own Oscar-caliber material.

Amazon Shop buttons are programmatically attached to all reviews, regardless of products' final review scores. Our parent company, IDG, receives advertisement revenue for shopping activity generated by the links. Because the buttons are attached programmatically, they should not be interpreted as editorial endorsements.