The Future of Nanotech
Tech Enabler: The Carbon Nanotube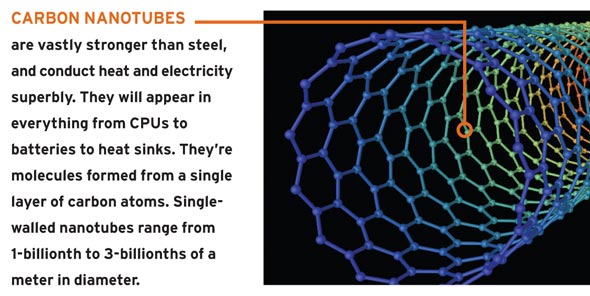 Carbon nanotubes are vastly stronger than steel, and conduct heat and electricity superbly. They will appear in everything from CPUs to batteries to heat sinks. They're molecules formed from a single layer of carbon atoms. Single-walled nanotubes range from 1-billionth to 3-billionths of a meter in diameter and, when magnified, resemble a roll of chicken wire.
Nantero's NRAM uses carbon nanotubes and combines the speed of SRAM, the density of DRAM, and the nonvolatility of flash memory. The company hopes to begin shipping products in late 2007.
NRAM stores data by changing each carbon nanotube's proximity to an electrode; current flows to the electrode only when the nanotube is in its on state. Earlier this year IBM announced creation of the first complete electronic integrated circuit built around a single carbon nanotube, using standard semiconductor processes. It's an important step toward integrating carbon nanotubes into chips.
Special Package: Tomorrow's Technology
| | |
| --- | --- |
| The Future of Your PC | The Future of Robots |
| The Future of Cell Phones | The Future of Privacy |
| The Future of the Web | The Future of Nanotech |
| The Future of OSs | The Future of You |
| The Future of Fun | 100 Fearless Forecasts |
| Incredible Tech: Lies Ahead | A Look Back |

Amazon Shop buttons are programmatically attached to all reviews, regardless of products' final review scores. Our parent company, IDG, receives advertisement revenue for shopping activity generated by the links. Because the buttons are attached programmatically, they should not be interpreted as editorial endorsements.