The Future of You

An online game is an odd place to have your reputation precede you. But that's exactly what happened to me not long ago in the massively multiplayer universe of EVE Online. My character there, a spaceship pilot named Walker Spaight, was minding his own business one day when I got a message from
Another player, who wanted to know if I was "the same Walker Spaight from Second Life," another 3D online world.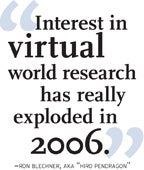 Indeed I was, I told him. And the response I got back was curious. My interlocutor was excited to meet a "virtual celebrity." In EVE I may simply be a midlevel combat pilot, but in Second Life I am among the best-known figures in a community of 250,000 or more. As editor of the Second Life Herald, an online newspaper covering events in Second Life, I've been digging up stories for the last two years, profiling interesting players and their creations (and not infrequently, their crimes), reporting on the businesses emerging there, and taking to task the company that runs the world.
While it may seem as though I'm reporting on a game, 3D virtual worlds like Second Life are becoming a very real component of people's lives, and over the next ten years they'll begin to shape the way we work, play, and define our identities online. To Philip Rosedale, founder and CEO of Linden Lab, the creators of Second Life, online worlds constitute nothing less than "a new means of human expression."
Special Package: The Future of...
| | |
| --- | --- |
| The Future of Your PC | The Future of Robots |
| The Future of Cell Phones | The Future of Privacy |
| The Future of the Web | The Future of Nanotech |
| The Future of OSs | The Future of You |
| The Future of Fun | 100 Fearless Forecasts |
| Incredible Tech: Lies Ahead | A Look Back |

Amazon Shop buttons are programmatically attached to all reviews, regardless of products' final review scores. Our parent company, IDG, receives advertisement revenue for shopping activity generated by the links. Because the buttons are attached programmatically, they should not be interpreted as editorial endorsements.