CHIBA, JAPAN -- Although Sony's PlayStation 3 has already been shown in prototype form at various trade events for more than a year now, most sightings have been of development kits only. We finally got a look at the console in action at the Tokyo Game Show today.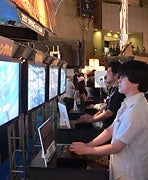 In Sony's own booth, about a dozen home-spun games were playable, with several more on display for eye-candy value alone. The standout titles drawing most attention from the huge first-day crowds of journalists, exhibitors, and assorted hangers-on were "Gran Turismo HD"--a racing game being demoed in mock-ups of sports-car cockpits--and "Minna No Golf 5" (Everybody's Golf 5), a fun golfing game that looked remarkably similar to the versions already available for other platforms.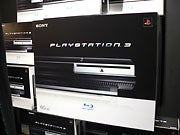 The game console is due to go on sale in the U.S. on November 17, but Sony has already announced that it expects to ship far fewer PS3s than originally announced due to component shortages.
High-Definition Gaming
Away from the games at the Sony booth, it appears that Sega has the best lineup of PS3 games. The outstanding title there was clearly "Power Smash 3," a tennis game that is presented in full 1080p high-definition resolution, which makes it appear closer to a simulation than a traditional game.
Hi-def gaming may take some getting used to, however. For example, close-ups of tennis star James Blake's shaven head that were shown between points were more than a little off-putting. Scratch beneath the glossy hi-def surface, though, and actual game play was surprisingly simple and easy to grasp. That caused a traffic jam of players so engaged that they had to be ushered along to keep the line moving and allow someone else a turn.
Other Sega standards were also out in impressive force. These included "Virtua Fighter 5" and "Sega Golf Club." The former game could hardly fail to impress, with detailed renditions of blizzards of sakura cherry blossoms falling from background trees and realistic-looking Japanese temples. Sega's golf title, on the other hand, looked slightly dated, especially when compared with the Sony golf offering.
Finally, not all PS3 games on show were complete. One of the most interesting games still on the drawing board, but available to lust over, was previewed under the working title of "Lair" and is surely the first high-definition fire-breathing dragon-riding game for any console.
List of PS3 Games
The software title line-up that will be available on November 11 when the PlayStation 3 console launches in Japan became clearer today.
At least six games are expected to be available on the PlayStation 3's launch day. Two games each will come from Sony and Bandai Namco and a title each from Konami and Sega.
One game was also given a price: "Konami's Mahjong Fight Club Online" will cost $43.
Demonstration versions of many of the games are on display at the show, which continues through Sunday.
PlayStation 3 Games List
Here are upcoming PlayStation 3 titles, publishers, and genres, grouped by the date they are projected to launch in Japan.
November 11:
"Resistance: Fall of Man" (SCEI) / First person shooter
"Genji: Days of the Blade" (SCEI) / Action
"Ridge Racer 7" (Namco Bandai) / Racing
"Mobile Suit Gundam: Target In Sight" (Namco Bandai) / 3D action shooting
"MahJong Fight Club Online" (Konami) / Mahjong
"Sega Golf Club featuring Miyazato Family" (Sega) / Golf
November 2006:
"Mahjong Taikai IV" (Koei) / Mahjong
December 2006:
"Gran Turismo HD" (working title) (SCEI) / Real driving simulator
"Armored Core 4" (FromSoftware) / High-speed mech-action
"MotorStorm" (SCEI) / Race
"Formula One Championship" (working title) (SCEI) / F1 simulator
2006:
"Fatal Inertia" (Koei) / Flying combat racing
"Sonic the Hedgehog" (Sega) / Action adventure
"Railfan" (Ongakukan) / Variety
"Need for Speed Carbon" (Electronic Arts) / Street race
"NBA Live 07" (Electronic Arts) / Basketball
"Enchant Arm" (FromSoftware) / Role playing game
Early 2007:
"Heavenly Sword" (SCEI) / Action adventure
"The Eye of Judgment" (SCEI) / 3D card battle
"Virtua Fighter 5" (Sega) / 3D CG battle
"Ninja Gaiden Sigma" (Tecmo) / Action adventure
"Monster Kingdom: Unknown Realms" (working title) (SCEI) / Action adventure
"Lair" (tentative name for Japan) (SCEI) / Flight action adventure
"Virtua Tennis 3" (Sega) / Tennis
"Wangan Midnight" (Genki) / Race game
Midyear 2007:
"Warhawk" (SCEI) / Flight action adventure
"Everybody's Golf 5" (working title) (SCEI) / Golf
Third quarter 2007:
"Dark Sector" (D3 Publisher) / Combat action
2007:
"Afrika" (working title) (SCEI) / no genre given
"Metal Gear Solid 4: Guns of the Patriots" (Konami Digital Entertainment) / Tactical espionage action
No date given:
"Shirokishi Monogatari" (SCEI) / Role-playing game
"Devil May Cry 4" (Capcom) / Stylish action
"Final Fantasy XIII" (Square Enix) / Role playing game
"Bladestorm: The Hundred Years' War" (Koei) / Action
"Coded Arms: Assault" (Konami Digital Entertainment) / First person shooter
"fl0w" (working title) (SCEI) / no genre given