First Look: Roxio Easy Media Creator 9 and Nero 7 Ultra Edition Enhanced
At a Glance
Nero NERO 7 ULTRA EDITION ENHANCED

PCWorld Rating

Roxio Easy Media Creator 9 Suite Software for Windows

PCWorld Rating
The battle of heavyweight disc-authoring and -burning suites continues with Roxio's Easy Media Creator 9 and Nero's Nero 7 Ultra Edition Enhanced. I looked at shipping versions of each package, and found that each adds next-generation disc burning and builds on its existing arsenal of media handling features; but most of the changes are incremental, evolutionary, or tangential to the essential burning functions.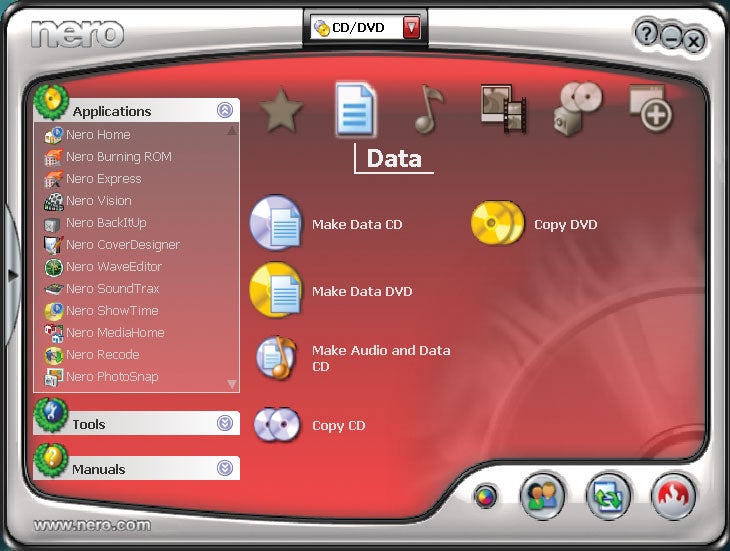 If you already use one of these programs, jumping to Nero's update makes perfect sense--the Enhanced upgrade is free to owners of Nero 7 (released last year); Roxio's suite costs $70 (after a $30 rebate, if you bought the previous version). If you're buying your first suite, you'll find that Roxio produces professional-looking content more easily than Nero does. Nero is packed with features--some of them unique--but its obtuse interface is tougher to learn. Both suites have broadened their scope in a quest to become all-in-one multimedia handlers, but in doing so, they've grown too large for their own good.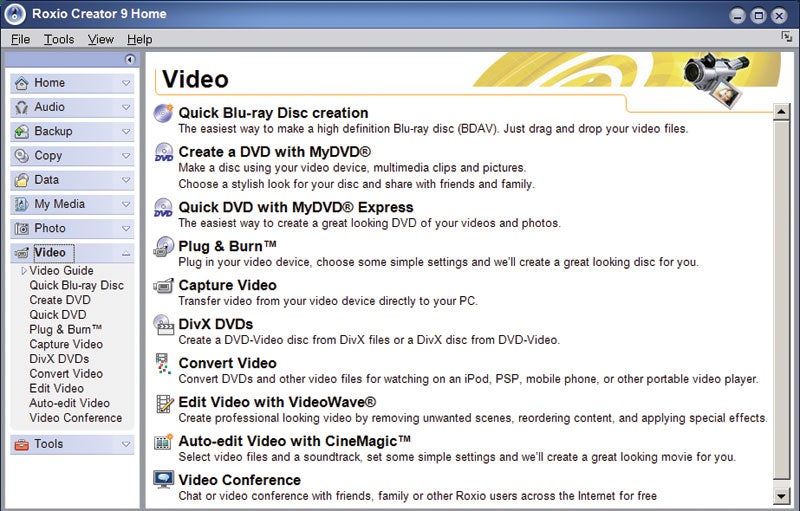 Suite-wide, Roxio's interface is easier on the eyes and simpler to use than is Nero. Unfortunately, having to learn and navigate a suite containing 34 separate Start menu entries negates much of the advantage. Nero is no lightweight itself, though-its interface has 23 Start menu entries, and though the suite has undergone some minor tweaks, it remains unintuitive in far too many spots.
Next-Generation Disc Support
For most users, Blu-ray and HD DVD are expensive technologies of the future. Yet support for these formats is the most notable addition to both suites. Both packages support disc mastering and packet writing for single-layer and dual-layer Blu-ray data discs, though Roxio has the edge because it also produces Blu-ray movie discs in the BD-AV format (Nero plans a future update to support BD-AV). Nero claims to support burning data to HD DVD-R, but such burners won't ship until next year in any case.
Roxio now matches Nero's support for high-definition video encoding and transcoding in MPEG-4 AVC (also known as h.264), a video codec common to both the Blu-ray Disc and HD DVD formats. In addition, Roxio also offers DivX 5 and DivX 5 HD.
Both suites have tweaked their video-editing components to help you jump-start creative projects. New menus, filters (including gamma correction and sharpen), and special video transition effects boost to Nero's NeroVision. Roxio's multiple video components--VideoWave, MyDVD, and MyDVD Express--have gained some convenient video-processing features, including auto-color correction and noise removal; and VideoWave has added a 32-track timeline.
Where Roxio really outshines Nero is in the video production realm, by making it easier for users to create packaged, professional-looking content and disc menus. The content production side is especially strong: Roxio's automated movie production module, CineMagic--which Nero has no equivalent for--now offers more snazzy movie intros.
The Nero suite's integration of MP3 Pro (formerly a $20 add-on) and AAC conversion bring it abreast of Roxio's suite in these areas. Oddly, Nero lacks Roxio's support for FLAC lossless compression, a musician's feature that would nicely complement the package's existing multichannel surround editing and its new support for editing up to 24-bit/192-KHz audio.
In comparison, Roxio's audio editing remains minor league, though it does work with Gracenote to identify music tracks and can even help you assemble playlists of complementary music. Roxio further distinguishes itself from Nero with its outstanding DVD Music Disc, which now offers customizable themes and an option for shuffle play--a nifty feature if you have 50 hours of music packed onto a single DVD.
More Than Just Burning
Improved mobile media support in both suites makes it easier for you transfer an episode of House from your DVR to your cell phone or portable media player. Both have also simplified their editing, transcoding, and output to mobile devices.
Nero now includes its Nero Showtime Mobile multimedia player for cell phones and portable Windows Mobile media players, along with its Skype-like Sipps VoIP program (no longer sold separately) for making free calls via the Internet. Another notable Nero addition is television recording. You can schedule recordings via the open-source XMLTV online electronic programming guide, and then stream the content across a home network with Nero Home (a graphical interface intended for use on TV). Roxio's equivalent Media Center-like interface lacks television recording.
Given these suites' quest to broaden their appeal beyond disc burning--and the explosion of media files on our desktops-it seems logical that Nero and Roxio should each offer media management utilities to help you keep track of the digital media you have on hand. Although neither of these packages goes as far as dedicated media organizers, such as Google's Picasa and ACDSee's eponymous image organizer, each could be handy-in its own way. You'll find Roxio's Media Manager reminiscent of Windows Explorer, with a file-and-folder interface that facilitates organizing, viewing, cataloguing, and searching for digital content. Nero's Scout simply monitors designated folders so you can easily find the data or media files you're looking for in another Nero module, such as Nero Home or Nero Showtime media player. And Nero's MediaHome module lets you stream the files across your network.
Roxio has a handy new archive feature for quickly backing up important data by type. Nero, meanwhile, now lets you boot from CD to create images. For disaster recovery you can't beat imaging, so Nero is still my choice in this area.
Which to Choose?
After using both suites (build 9.0.088 of Roxio's Easy Media Creator, and build 7.5.1.1 of Nero Ultra Edition Enhanced), I found that each still has its share of issues. On my 2.4-GHz Athlon 64 X2 4600+ test system, Roxio's VideoWave component was sluggish: It hogged memory and pegged CPU usage at 99 percent. Nero has its glitches, too: Nero Burning ROM hasn't fully erased rewritable CDs for the last few versions now, and menu language quirks abound.
For new users, Roxio's more intuitive modules and no-hassle, professional-looking output makes it the more appealing package for users who want professional-looking results with minimal effort. Fans of version 8 might want to hold off on upgrading, though: Only a few of the new features--such as Blu-ray and AVC support, automatic video enhancement, and mobile phone export--offer significant new core functionality. The rebate off the $100 retail price is $30, making Media Creator 8 another in a series of pricey upgrades, and you may not get much value for your dollar unless you need some of the new features today.
Nero remains less intuitive and requires more creative effort to generate projects, but the software is just as capable as Roxio's, and it offers some features (TV recording, multichannel audio editing) that Roxio does not. And current users can upgrade to Nero 7 Ultra Edition Enhanced for free--a typical arrangement with Nero software. New Nero 7 users must pay $100 in stores or $80 for a download.
Roxio Easy Media Creator 9
If you need professional-looking digital content in a hurry, choose Roxio's latest package.
Street: $100; $30 rebate for previous owners
Current prices
(if available
Nero 7 Ultra Edition Enhanced
Latest version offers plenty of power but lacks finesse. Still, Nero remains a better deal for your dollar.
Street: $100; $80 online; free to owners of previous version
Current prices
(if available)
At a Glance
Nero NERO 7 ULTRA EDITION ENHANCED

PCWorld Rating

Roxio Easy Media Creator 9 Suite Software for Windows

PCWorld Rating
Shop Tech Products at Amazon