Here are a few smart ideas to make your printing life easier and more fun. We've also included some thrifty tips that could save you money.
1. Stretch Your Ink Budget
Most printers let you extend your ink cartridges or toner by setting a draft mode that produces gray text, which is still perfectly readable. You'll also save by turning off color printing; black ink and toner are usually cheaper than their color counterparts. Save paper by printing two pages side-by-side on a single sheet. If your printer has a duplexer, set your draft profile to print on both sides. From the 'Printers and Faxes' list, set this profile as the default printer, so you won't forget to use it. Save your original profile for times when high quality is important.
For more paper- and money-saving tips, see our Cheapskate's Guide to Printing.
2. Create Virtual Printers
Not all printouts are created equal: Sometimes you want quality, other times you want speed; sometimes you want color, other times you don't. For each type of output, you must change the settings in Windows' Print Properties dialog box. While some printers let you set up profiles for each of your common printing tasks, you usually have to hunt through Print Properties to find the settings you need to tweak.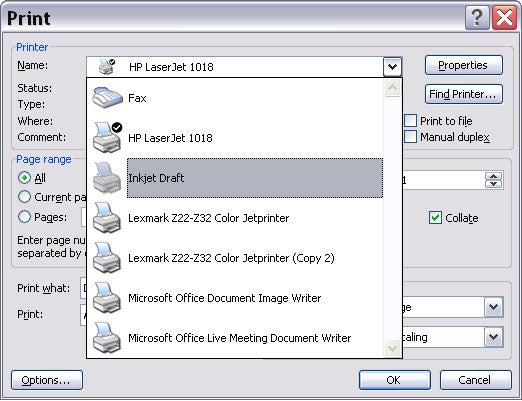 To get the same result more easily, create separate virtual printers for each set of properties you require. Open Control Panel's 'Printers and Faxes' applet, select Add a printer, and step through the Add Printer Wizard. Next, select the printer and click Set printer properties in the right pane (or right-click its entry and choose Properties). Give the "printer" a meaningful name, such as Inkjet Draft or Laser Letterhead Paper, and click Printing Preferences-Advanced. Set the printing preferences to match (the options available vary from printer to printer, but most let you adjust the print resolution for higher or lower quality, for example). The next time you print, select the icon for your printing task from the list at the top of the Print dialog box (see the accompanying screen shot).
3. Choose the Right Paper
If your printer has multiple paper trays, load one with inexpensive, multipurpose paper, set your draft-print profile to use it, and put your high-quality paper in the other tray. When you need quality, select the latter tray in your Print Properties. For sharp text from an inkjet, use paper designed specifically for them--paper that is intended for laser printers and photocopiers soaks up ink like a sponge, making inkjet characters look fuzzy.
Bonus tip: For best color accuracy and prints that last a lifetime, go with your printer manufacturer's recommended paper--usually its own brand. Some printers, such as recent models from Canon, won't even let you select the highest quality mode if it detects that you're not using the vendor's own specialty paper.
4. Buy Ink and Paper in Volume
When we tested the ink yields of photo printers, we found that the cost of printing a 4-by-6-inch photo ranged from 23 cents to 97 cents. Many printer vendors now offer multipacks of ink and paper. For example, HP's value pack for its Photosmart 375 and Photosmart 385 combines one tricolor ink cartridge with 50 sheets of snapshot paper for $20--less than the $25 cost of the cartridge alone. Although HP also sells packs containing more ink and paper, this smaller size is actually a better bargain, based on the 49-sheet yield recorded in our original tests.
5. Go Big on Toner
Buying laser toner in bulk also saves you big bucks. Brother is typical of laser-printer manufacturers that offer toner cartridges in several capacities. Cartridges rated to yield 3500 pages for the Brother HL-5250DN (currently our Best Buy monochrome laser) cost $74 on the company's site. You can buy cartridges with double the capacity for $100, which saves you $48 over the life of the higher-yield cartridge. Going big on toner capacities can reduce your cost per page by more than half a penny. Regrettably, few laser-printer vendors offer large-capacity cartridges for their budget models.
6. Make a Direct Connection
Most of today's printers have a front port for printing photos straight from a digital camera without using your PC. The camera uses the PictBridge standard to link to the printer through what is essentially a USB port. Many printers let you connect other USB devices to the port, usually a flash-memory drive.
Printers featuring a color LCD often let you browse and print photos stored on a flash drive. For example, the Epson PictureMate Deluxe Viewer Edition lets you transfer image files from your camera's memory card to a USB drive, which can be handy for archiving files from the camera while you're away from your PC. Several HP printers, such as the portable Photosmart A610, can print photos stored on an iPod. But don't expect the transfer speeds you'd get with a USB 2.0 port on your PC: Most PictBridge ports--including those on the PictureMate and the A610--run at the slower USB 1.1 speed.
All new PCs come with USB 2.0 ports that are capable of the highest speeds, but the devices you connect to them can run at either Hi-Speed (up to 480 mbps) or Full-Speed (up to the old USB 1.1 limit of 12 mbps, or 40 times slower). If you have a 1GB memory card full of images in your digital camera (like I do), that makes a huge difference in how long you wait for your photos to download when connected to a PictBridge printer instead of directly to a PC. Of course, most digital cameras still use USB 2.0 Full-Speed.
You may be used to printing directly from your digital camera to your printer, but now you can do the same from your camera phone or handheld. Canon offers several printers with IrDA interfaces that let you beam your photos to them. Canon, HP, and Epson offer Bluetooth adapters that plug into the direct-print port on their printers for printing images wirelessly from a Bluetooth-equipped device. Prices start at $39 and run to over $80.
7. Easily Print Full Web Pages
How often have you printed a Web page only to find that Internet Explorer has sliced off the right side of the screen? Several printer makers supply free software to fix this long-standing annoyance. Canon's Easy-WebPrint provides an alternative-print function that neatly scales a Web page to fit your paper size. Some programs don't even require that you use the company's brand of printer.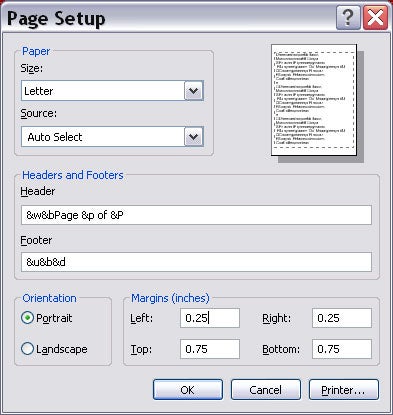 A less-elegant solution is to tweak IE's page settings. Select File, Page Setup in Internet Explorer and set the left and right margins close to 0.25 inches (see screen shot). Your printed Web page will look wider than it did in your browser, but at least you'll print the entire thing.
8. Browse for Freebies
Your local computer store has plenty of products designed for such printing projects as party invitations, posters, and specialty business documents. But before you hand over your $20 to $100 for one of these brightly colored boxes, see what you can find for free. Many printer manufacturers give away tools and templates to encourage you to use your printer more (and buy more paper and ink).
Photo printers from Epson and HP ship with material for creating greeting cards and photo albums. Canon's Creative Park and Epson's CreativeZone provide templates and instructions for many different projects. HP's Printing Tips Center and Lexmark's Project Center walk you through the steps to design greeting cards, scrapbooks, and more; in both cases you first upload your photos to the site, and then use its tools to manipulate the images. Both the HP and Lexmark sites deliver the finished results as PDF files, so you don't need an HP or Lexmark printer to print them. On HP's site, you can print your softball team's roster, contact info for team members, the season schedule, fundraising letters to potential uniform sponsors, personalized t-shirts, player trading cards, and invitations to the championship party.
Paul Jasper is a freelance writer based in Northern California.