TOKYO -- Gamers all over Japan are preparing for the launch of the PlayStation 3 on November 11. The highly anticipated game console is sure to sell out on the first day, partly because of PlayStation's popularity and partly because Sony is supplying only 100,000 units for the launch.
Adding to the competition is the Nintendo Wii, which launches on December 2 in Japan and on November 19 in the United States.
In late September, IDG News got a chance to play both the PlayStation 3 and the Wii for the first time. Our verdict: The PlayStation 3 is certainly much more powerful than the consoles that have gone before it and its graphics are amazing, but the Wii really impressed by bringing a whole new dimension to gaming with its innovative controller.
Nintendo Wii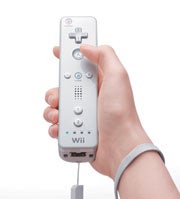 The Nintendo Wii will cost $250 in the States and 25,000 yen in Japan. That's a good deal cheaper than the PlayStation 3, which will cost about twice as much, and less than Microsoft's Xbox 360--good news for parents. The Wii will come with a wireless controller that is a lot of fun to use. The console has motion sensors so it can be swung like a bat in a baseball game or swept like a racket in a tennis game. The video isn't high-definition, unlike the competing consoles, but the fun factor is considerable.
Sony PlayStation Portable Camera and GPS Add-On
We've been waiting for the camera and GPS (Global Positioning System) add-ons for the PlayStation Portable from Sony ever since the manufacturer promised them earlier this year. The camera and the GPS unit will cost a reasonable $42 and $50, respectively. The camera is a 1.3-megapixel model and can record both JPEG and Motion JPEG video with audio. The GPS unit will initially work with four pieces of software, one of which is a navigation guide so you can use the device to find your way around. There's no word yet on international availability.
Samsung 10MP Camera Phone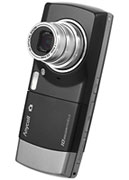 Remember that 10-megapixel camera phone that Samsung first showed at the CeBIT show in March? Well, it's finally coming on the market in South Korea. Originally due in this year's second quarter, the phone will go on sale this month. Like some of the company's previous phones, the SCH-B600 is styled to look like a conventional digital still camera from one side and a bar-type cell phone from the other side. It has a 3X optical zoom lens like those typically found in digital still cameras; it also has autofocus, manual focus, continuous and time-delay picture-taking, and a flash. Other features include a tuner for South Korea's TU Media satellite multimedia service. It will cost $950 in South Korea; Samsung says it will not be selling the device in other markets.
Panasonic Blu-ray Disc Recorders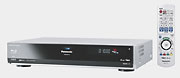 Panasonic will arrive at the Blu-ray Disc party in November with a pair of recorders that pack hard drives and the ability to play back commercial high-definition movies. These models--the DMR-BW200 and the DMR-BR100--are mostly similar; however, the higher-spec BW200 offers more than double the hard-disk recording capacity of the BR100--a total of 500 gigabytes versus 200GB. It also offers a few extra features such as an iLink (IEEE 1394) connector, an ethernet socket, and support for AAC audio playback from memory cards. The recorders won't come cheap. In Japan, the BW200 will cost around $2550, and the BR100 will cost around $2010; both are due to go on sale November 15. Prices and launch dates for other markets were not disclosed.
Sony Blu-ray Disc Recorders

Not to be outdone in the Blu-ray Disc race, Sony followed Panasonic with the announcement of its own two recorders. The machines both feature hard-disk drives for day-to-day recording and a Blu-ray Disc drive for longer-term storage. The BDZ-V9 has a 500GB drive, and the BDZ-V7 has a 250GB drive. Each recorder has two digital tuners so that two high-definition programs can be recorded simultaneously. A major difference between the Sony and the Panasonic machines is that, while both play back 50GB dual-layer discs, only the Panasonic can record to them as well. The Sony machine will record only to 25GB single-layer discs. The higher capacity BDZ-V9 will launch on December 8, and the BDZ-V7 will follow on December 16. The recorders will cost $2541 and $2118, respectively. Launching the products internationally is possible, but nothing has been decided as yet, Sony says.
HTC Windows Mobile Phone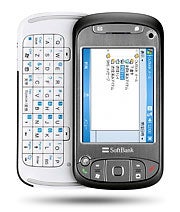 With e-mail and other advanced features built into every cell phone, devices such as PDAs (personal digital assistants) have never done well in Japan. However, competition in the market and the adoption of a global standard in WCDMA (Wideband Code Division Multiple Access) means High Tech Computer's latest Windows Mobile device will soon reach Japanese shores. The Softbank X01HT, as it is called, features HSDPA (High Speed Downlink Packet Access) download speeds of up to 1.8 megabits per second and uploads of 384 kilobits per second, and wireless LAN. It runs on Windows Mobile 5.0 and has the Microsoft Office suite, as well as Explorer Mobile. The QWERTY keyboard allows users to input data or play music on Windows Media Player. No price has been announced. The phone is likely to appear in other markets through local carriers.
R&D Corner: Hitachi Maxell SVOD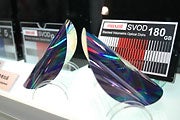 Hitachi Maxell has developed a thin optical disc that could lead to data cartridges capable of storing terabytes of information. The Stacked Volumetric Optical Disc (SVOD) is less than a tenth of a millimeter thick, which would allow many of the discs to be stacked together in a cartridge. The cartridge would slot into a dedicated drive, and the discs would be pulled out of the cartridge automatically by a mechanism inside the unit and mounted into the drive. Such an SVOD system would be targeted at commercial storage applications. The company says that an SVOD system about the same size as a tower PC will be able to hold 4.7 terabytes of data, and that a 19-inch rack-mount model will be able to hold three times that amount of data. A working prototype was demonstrated at the Ceatec exhibition in Japan in October, but there's no time frame on commercialization.