Page 2 of 6
Before You Buy
It's out of date before it's out of the box.
When Pesach Lattin of New York wants to upgrade his digital gear, he no longer gets caught up in what he describes as the model-name game. "Wait a week, and that Sony digital camera you're thinking about buying is yesterday's news," Lattin says.
Lattin is not imagining things. Product cycles for tech gear have gotten shorter over the years as companies seek to stay competitive by quickly incorporating new features, says Jenny Pareti, spokesperson for the Consumer Electronics Association. Canon, for example, has cranked out more than 24 new digital camera models in the past 12 months.
An unfortunate side effect of accelerated product rollouts is that they increase the odds of accessories not working with older gear. Apple, for example, has introduced on average a new iPod model every two months for the past year, and people who have bought older iPod accessories such as speakers or docks can't always use them with the newer iPods.
Short technology-product cycles may be a fact of life, but some retailers aggravate the problem by knowingly foisting older gear on customers--or at the very least, by not making clear to buyers whether the items in stock are nearing obsolescence.
Lattin says that he's had enough with the alphabet soup of model numbers. But if you want to avoid getting stuck with older gadgets, check each product maker's Web site carefully to figure out what's old and what's the latest.
You'll love our phony feedback.
In the hypercompetitive world of online commerce, sites for comparison shopping have unfortunately become popular destinations for rip-off artists seeking to lure customers with fake merchant and product reviews.
The problem of bogus reviews has arisen even at well-known sites such as Amazon.com. While Amazon is not a comparison engine, it does permit third-party merchants to hang a shingle at its site, along with inviting reviews from patrons. A positive merchant review can bring lots of business to a retailer: Forrester Research says that 40 percent of shoppers take retailer ratings into account when choosing where to buy. San Francisco blogger Thomas Hawk decided to purchase a digital camera at the Web site of Brooklyn-based Price Rite Photo in part because of a satisfactory merchant review on Yahoo Shopping. But his experience was not a happy one (see "Score One for the Little Guy").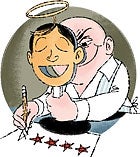 Some sellers try to make themselves look good by posting glowing reviews under false identities. "It's a kind of stuffing the virtual ballot [box]," says Kamran Pourzanjani, CEO of PriceGrabber.com, a comparison-shopping site (PCWorld.com uses PriceGrabber.com for its pricing engine). He says PriceGrabber gives the boot to companies that manipulate their ratings.
Although Pourzanjani declines to say how many bad apples he's actually tossed out, he notes that PriceGrabber rejects 5 to 7 percent of submitted reviews for being suspected fakes. PriceGrabber and other pricing engines have automated the screening process--instantly rejecting, for example, groups of reviews that come from the same computer or network.
Amazon.com has addressed made-up merchant reviews through its Real Names program, spokesperson Drew Herdener says. To review an item or merchant on Amazon, you must have purchased something there under a valid user name.
All of the shopping-engine firms PC World spoke with say they have gotten so good at detecting fake comments that it's a nonissue. Some sites don't rely exclusively on technical means to spot phony reviews. Shopping.com, for one, has a community-policing element: You can see whether a reviewer is trusted by other Shopping.com users, and vote on new contributors.
Retailers that engage in questionable practices usually have online track records. Before forking over your money, try punching the company name into Google to see what others think.